9.20.23
$1.5 million gift will support Wilkins Softball Stadium renovation at Wichita State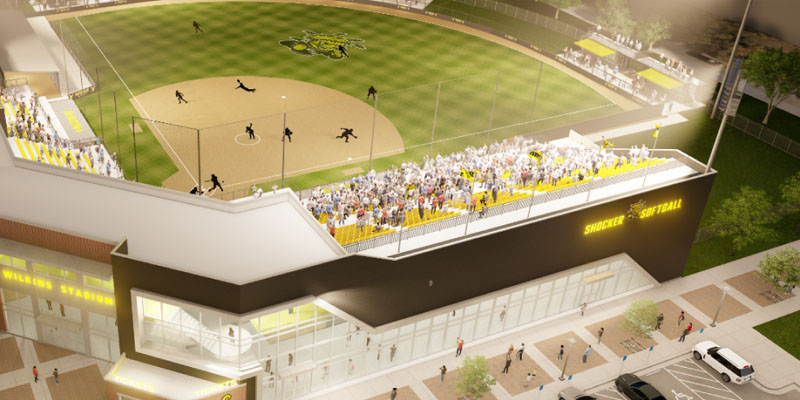 John and Gail Wadsworth have given a lead gift of $1.5 million to Wichita State University and Shocker Athletics, earmarked for the Softball Team Operations Facility at Wilkins Stadium. The building is a part of the $9.65 million Phase 1 of the stadium renovation plan, which will begin development in the spring of 2024.
"Gail and I feel so fortunate to be able to support the Shocker Softball program at Wichita State and elevate their facilities to match the caliber of the program," said John Wadsworth. "Student athletes work incredibly hard to succeed in all aspects of their collegiate experience, and supporting projects that will benefit their development is something we encourage everyone to consider."
The Wadsworth Softball Team Operations Facility will provide 12,000 square feet of space dedicated to the efficient and effective day-to-day development of Shocker Softball student-athletes. It will feature new student-athlete and coaches' locker rooms, staff locker rooms, offices, training room, nutrition support, laundry room and other player development spaces.
"John and Gail have been long-time supporters of Wichita State and Shocker Athletics, and with this lead gift continue to ensure our student-athletes succeed," said Darin Kater, SVP of development at the WSU Foundation and Alumni Engagement. "Their incredible generosity in supporting the softball program will ensure the continuation of its past decade of outstanding growth."
Since 2012, the team has secured three regular-season championships, two conference tournament titles and five appearances in NCAA regionals. The facility renovation at Wilkins Stadium will position Wichita State to host national events, including NCAA post-season play (e.g., Regional & Super-Regionals) and other external events.
"As grateful as we are for the Wadsworth family, Gail and John's donation to the Wilkins Stadium project is only one way they have shown their love for Shocker Athletics," said Kristi Bredbenner, Wichita State Head Softball Coach. "Over the years, they have attended countless sporting events and fundraisers and have travelled with various teams to show their unrelenting support. Gail has also spent countless hours with our student-athletes as a mentor in our academic services department. I couldn't ask for a better name than Wadsworth to represent the new operations building for Shocker Softball. Thank you, John and Gail, for investing in women!"
Wichita State University and Shocker Athletics are committed to aligning resources to meet championship expectations through a joint commitment to the overarching $19.85 million
Wilkins Stadium master plan. In addition to the Wadsworth Softball Operations Facility, Phase 1 will also include an indoor softball practice facility, designed to house a full-size artificial turf softball infield. Phases 2, 3 & 4 of the Wilkins Stadium master plan includes expanded fan amenities and seating options.
"We are very grateful for the Wadsworth family's generosity to this project and our university over the years," said Kevin Saal, Wichita State Director of Athletics. "Their passion for the upgrades to Wilkins Stadium will help our program recruit, develop and retain the next generation of elite talent at Wichita State and further build on the championship tradition in our softball program."