7.11.23
A former Miss Black and Gold now wears the Miss Kansas 2023 crown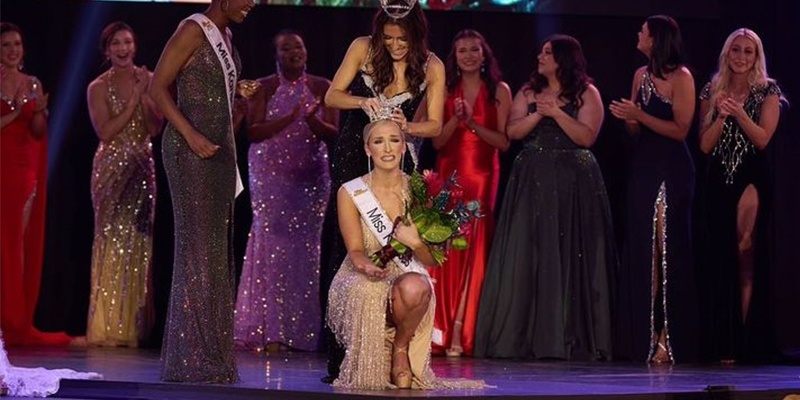 Wichita State performing arts graduate Courtney Wages '21 — choreographer, dancer, teacher and community outreach manager at Wichita-based Envision, a nonprofit that provides vision rehabilitation services — was crowned Miss Kansas on June 10. She will represent Kansas in the 96th Miss America scholarship competition in 2024.
"Kansas, I am ready to serve you," Wages says. "I have the service, heart and a mission to empower Kansas — all of Kansas. I promise I will wake up every morning working hard to serve our state with passion, compassion and listening ear."
A Midwest City, Okla., native, Wages is a four-year participant in the Miss Kansas competition, having first vied for the crown in 2018 as Miss Black and Gold after being encouraged to run for the local title by one of her college sorority sisters. "When I attended Wichita State and went through Greek life," she says, "I gravitated to Delta Gamma because their philanthropy was Service for Sight." The sorority's service focus attracted Wages since it reminded her of her Oklahoma friend, Hannah, who has a vision impairment.
The next year, Wages competed as Miss Emerald City, then Miss Air Capitol and then ran as Miss Southern Kansas. While her titles have changed, her service initiative has not. Every year it has been: One Vision is Not the Only Vision: I See You. She reports that her favorite moment of the 2023 competition was performing a tap dance as her talent. "Many people don't realize it," she explains. "But tap is the one type of dance method that people who are blind or visually impaired can hear."
Wages, who will be the first Miss Kansas to take vision awareness as her service platform to the Miss America stage, was awarded over $13,000 in cash scholarships through the Miss Kansas competition to apply toward her education. As Miss Kansas, she is set to make appearances across the state during a year-of-service, many of which will be motivational presentations to students in Kansas schools.
Sixteen women from around the state competed in this year's Miss Kansas event held at Pratt Community College in Pratt, Kan. A fellow Wichita State graduate, Sierra Bonn '22, was first runner-up — giving the 2023 Miss Kansas competition a definite Shocker flair.