8.31.22
A positive reaction: Chemistry professors join forces to create a pooled scholarship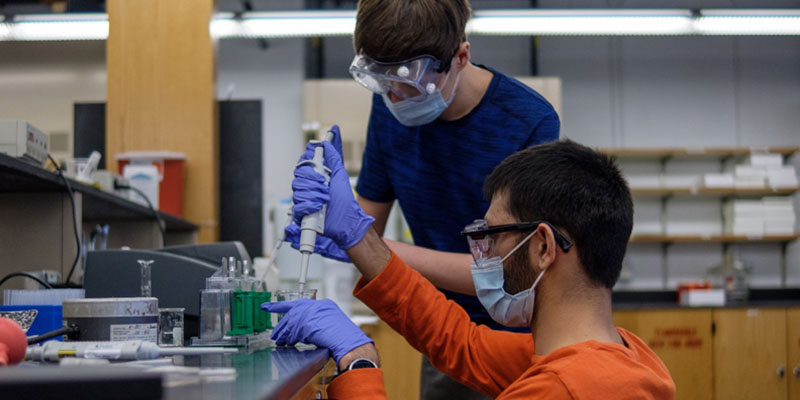 Allen Galliart and Doug English have never met in person, but they share a common passion: helping chemistry students succeed. It's this goal that brought the two together to start the Pooled Chemistry Scholarship at Wichita State University.

Galliart graduated from WSU's chemistry program in 1966, and after completing a PhD at Arizona State, he spent 30 years teaching students like himself.

"I thoroughly enjoyed college, and I always thought my professors related very well to the young people they were teaching," he said. "It made me want to follow that path."

When he retired from teaching, Galliart knew he wanted to continue investing in student's lives. As a scholarship recipient himself, he saw it as a way to pay it forward for current students. That was when he called Doug English, chair of the department of chemistry at WSU, to discuss an idea.

"When Allen called me about funding a year of tuition for a junior in the chemistry program, I loved the idea," said English. "But as we were talking, I thought, 'what if we made this a perpetual thing?'"

English committed to matching Galliart's gift, and together they created the Pooled Chemistry Scholarship. Their goal is to find other alumni and faculty to contribute and get the scholarship to the endowed level, where it will provide student funding every year in perpetuity.
"The upperclassmen it will support have already gotten through the general stuff, and they know they're going to be chemists in some fashion," said English. "Financial help is so appreciated and needed, and it helps strengthen the bridge between the department and the students."

As a member of WSU's faculty for 14 years, English is still impressed by the legacy in the department to contribute back to the program. He and his colleagues are not only committed to the university and its mission, they also work hard to make students feel like a valuable part of the program.



"When we look at students and how curious, imaginative and energetic they are – you can see their potential realized right in front of you. There's not much better than that as a job," said English.

For more information about contributing to the Pooled Chemistry Scholarship, contact Alyssa Scott, director of development at the WSU Foundation.