5.19.22
Back to her roots: Nikki Epley's planned gift reflects her heart for service and passion for WSU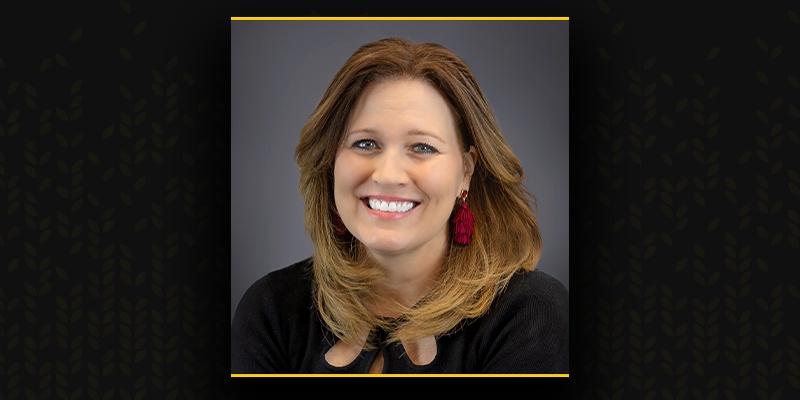 Nikki Epley's time as a student athlete at Wichita State launched her on a career that has taken her all over the country, and WSU has always held a special place in her heart.
"This university is my roots," she said. "I've worked in a lot of different places and roles, and it's always special to me to tell people that I'm a Shocker – I'm just so proud of my alma mater."
Epley graduated with a bachelor's and master's degree from WSU, where she played on the softball team and worked in the athletics department as a student. After graduation, she returned to WSU to plan events for the Alumni Association.
The passion for sports and engagement she developed at the university is the through line of a remarkable career, taking her from planning Super Bowls, NCAA Final Four tournaments and College Football Playoffs all the way back to Wichita. She returned to her hometown in 2019 to help launch the Culture and Talent division at Fidelity Bank, where she spends much of her time developing community outreach and volunteering opportunities.
"My mom inspired my heart for service," said Epley. "I never realized how much I would love it until I had an opportunity to do it, and now I do as much as I can."
Epley's passion for volunteering and community building is easy to see. She's a baseball coach for League 42, a big sister through Big Brothers Big Sisters and she volunteers for Harry Hynes Hospice each week. Recently, she found a new way to give back through an estate gift to WSU to support the softball program, which she has followed closely through the years.
"It was really important to me to have a living will," she emphasized. "I lost both my parents, so I wanted to be sure I had one in place. But that's so different from estate planning. To be honest I never thought I even had an estate – I thought that was only for the wealthy."
The belief that estate planning isn't for everyone is a common misconception.
"All of us will have an estate," said Mike Lamb, vice president at the WSU Foundation. "It's merely the investments, assets and property we own at the time of death. By creating a plan for our assets, we retain control of how they are distributed to the people and organizations we care about. Without a plan, the state will decide how they're distributed."
Epley loved the opportunity to think about what was special to her and how she wanted to make a positive difference.
"I hope my gift can provide an opportunity, small as it might be, to someone who needs it and wants to play softball here but may not have the means. I just love seeing students live out their dreams and watch the program grow and develop – I'm so pleased I can give to that."