2.23.23
Canada's chief science adviser impressed with Wichita State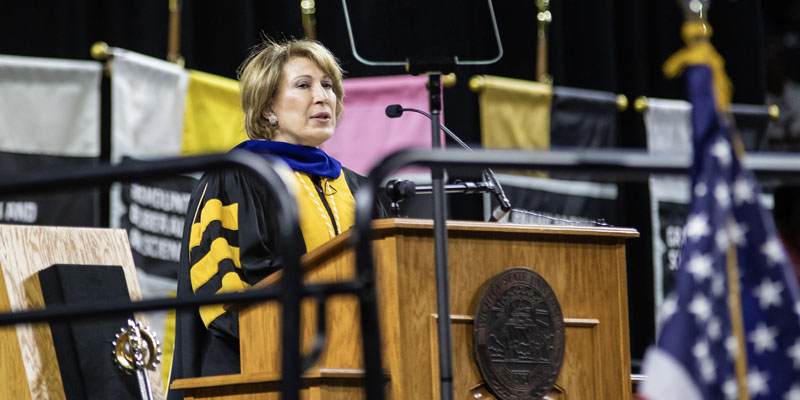 Mona Nemer '77, a Wichita State chemistry graduate who's now serving her third appointed term as chief science adviser to Canadian Prime Minister Justin Trudeau and his cabinet, returned to her alma mater this past December to give the commencement address at the university's fall 2022 graduation ceremony.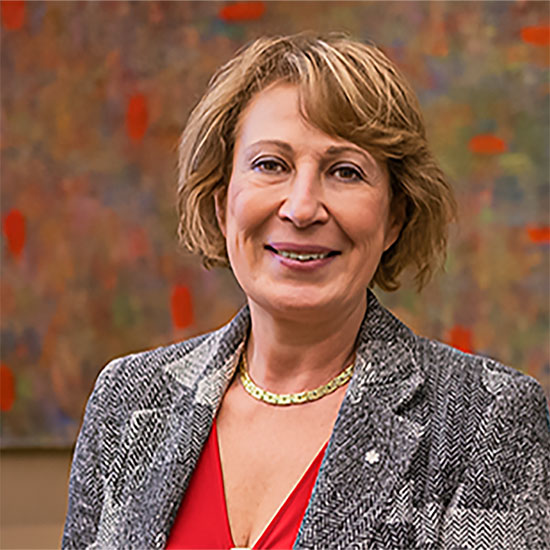 "I was impressed by many things and many people at WSU," she says about her whirlwind visit back to campus to address graduating seniors and accept an honorary doctorate presented to her by WSU President Rick Muma during the commencement ceremony. She adds, "I felt very proud of my alma mater."
About the university as a whole, Nemer says she was struck by two things in particular. The first is how integral Wichita State has become in the wider community through its many different avenues of activity. "By opening its doors to its neighbors, businesses and public institutions," she explains, "the university offers expertise and state-of-the-art infrastructure to accelerate knowledge sharing and mobilization. This helps create good jobs and innovative, active and work-integrated learning opportunities. Well done!"
The increasing diversity of Wichita State's student body, especially that of international students, also caught her attention. "The greater internationalization of WSU is an important contribution to the city, to the state, and, above all, to the students themselves," she says. "In my time there, there were very few international students."
After her graduation from WSU, Nemer went on to earn a PhD in organic chemistry from McGill University in Montréal and from there underwent postdoctoral work in molecular biology and genetics at the Montréal Clinical Research Institute and at Columbia University in NYC. She says that her proudest achievement in scientific research is the collaborative discovery of the GATA4 gene, which is essential in the body's production of heart cells.
Before becoming Canada's chief science advisor in 2017, she posted experience as professor and vice president of research at the University of Ottawa, where she directed the Molecular Genetics and Cardiac Regeneration Lab, and as a professor of pharmacology at the Université de Montréal and director of the Cardiac Genetics Unit at the Montréal Clinical Research Institute — all of which made her uniquely qualified to take on the role of advising the prime minister and minister of science about the use of science in government policy-making for the benefit of public health and life.
"I consider science and evidence-based policies to be vital to growing healthy and progressive societies," says Nemer, who holds a deep conviction that science is increasingly important for the public good. It's a conviction she shared during her campus visit in a number of different ways with a number of different people, including President Muma. "I very much enjoyed all of my exchanges with him, including some great discussions on higher education, science literacy and the science/policy nexus," she says. "It was nice to visit the president's house. I would have never imagined as a student to have such an opportunity!"
While on campus, Nemer also visited with Fairmount College of Liberal Arts and Sciences administrators, faculty members and students. "That's my college," she says. "There is so much talent and potential there."
Born in Lebanon in 1957, Nemer was a student at the American University in Beirut when civil war broke out in 1975. To escape the instability and violence in her home country, she moved to the United States to finish her studies at Wichita State, where she majored in chemistry and minored in mathematics and French. Her many fond memories of her student days at WSU include, she says, spending time studying in the library.
"The campus is so much bigger now," she notes, "but the 'old campus' is as charming as I remember it. I wish I'd had more time to stroll through and go inside more buildings, like the library. Everything, except the street names and people's kindness, seems to have changed!"
From her Parliament Hill office in Ottawa, the base from which she works to advise federal decision-makers on a dizzying array of science issues, Nemer sums up her trip to WSU with this: "It was a short but lovely visit — and Kansas steak is as exceptional as I remembered!"