11.13.23
Celebrating our inaugural Heritage Gala
On Tuesday, November 7, the Wichita State University Foundation and Alumni Engagement held its inaugural Heritage Gala, a combination of the Alumni Awards and President's Club events from previous years. This celebration recognized the individuals who inspire past, present and future generations of Shockers.
"Our goal was to create an inclusive event celebratory of all Shockers; students, alumni and friends," said Vice President of Alumni Engagement, Stacie Williamson. "We feel fortunate to have been in the room with so many passionate Shockers and hope to build upon this event for years to come."
Three alumni were nominated by their peers for their personal and professional achievements, as well as their service to the university and society.
· Roy Moye III, '15, received the 2023 Young Alumni Award for his diverse portfolio of professional achievements, ranging from aerospace engineering to a musical feature on All One Tribe, a Grammy-nominated album celebrating the accomplishments of people of color.
· Dr. Jessica Provines, '01/04/06, was awarded the 2023 Social Impact Award. Dr. Provines helped spearhead Suspenders4Hope, a mental wellness and suicide prevention program with national reach, and established Health Outreach, Prevention and Education Services at Wichita State.
· Dr. Alicia Thompson, '15, was honored with the 2023 Alumni Achievement Award for her significant contributions to the Wichita Public Schools (WPS) system throughout her 31-year career. Earlier this year, Dr. Thompson retired as superintendent of WPS, the first Black woman to hold this position.
The Board of Trustees' Award recognizes one individual who has helped strengthen the bond between the University and community. This year, Tom Winters received the Board of Trustees' Award for his service on the Board of Trustees at WSU and various community boards in the City of Wichita.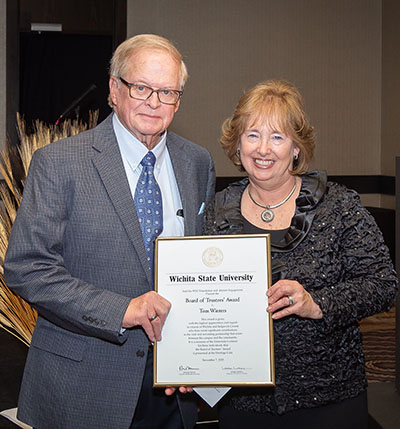 Founded to commemorate the legacy of WSU's 15 presidents, President's Club honors those whose generosity helps to elevate our university. The President's Club inducted several new members:
· Wayne Pfeiffer
· Edward & Kimberly Lind
· Linda Richardson
· Sam & Sheryl Seward
· Harriet A. Hickman
· Dick & Annie Wilson
· David & Piper Ayala
· Mary Joan Dawson Waid
· Peter & Kim Hagan
· Dr. AJ & Diana Farha
· S and Y Industries
· Doug & Lynn Wright
· Donald & Sandra Hull
· Southcentral Pathology Laboratory PA
· Steve & Missy Cohlmia
· Trish Thelen
· John & Tammie Lohnes
· Skip & Vicki Smith
· Foley Industries Inc.
· Craig & Marilyn Boehning
· Jacob Liquor Exchange LLC
· Greg & Phyllis Guinn
· Sean & Natalie Tarbell
· Jonathan & Bethany McConnell
· Karen & Donald Baxter
· United Healthcare Community Plan of Kansas
To see the full gallery from the event Click Here