10.5.20
Clark and Sharon Bastian, Fidelity Bank invest another $500,000 in new home for Wichita State's W. Frank Barton School of Business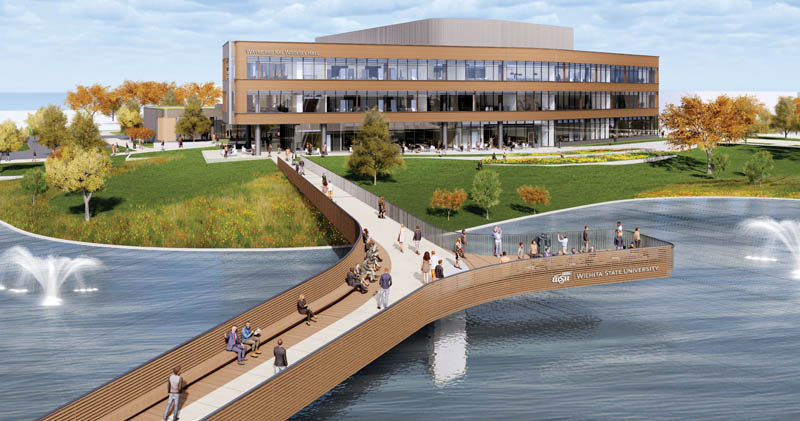 FOR IMMEDIATE RELEASE October 5, 2020
Clark and Sharon Bastian and the fourth-generation, family-owned Fidelity Bank have pledged an additional $500,000 to the campaign to build a new home for the W. Frank Barton School of Business at Wichita State University, supplementing a $1 million gift made in 2018 to the WSU Foundation.
Clark Bastian is chairman of Fidelity Bank and both he and Sharon Bastian graduated from Wichita State in the 1970s.
"Sharon and I are grateful for the quality education, fond memories and formative life lessons that came from our time at Wichita State," Bastian said. "Through this gift, our family is helping to build a magnificent space for future generations of Shockers to experience the boundless opportunities that come from collaboration, innovation and entrepreneurial pursuits. For us, it is a deep source of pride."
So far, $31.5 million has been raised in private funds to build Wayne and Kay Woolsey Hall, named for the Wichita couple who provided the lead gift. The WSU Foundation's goal is to raise $35 million from private sources for the $60 million facility, to be built on WSU's Innovation Campus. Clark Bastian, who recently completed two terms on the Foundation's Board of Directors, is helping to lead fundraising efforts for the project.
"This remarkable new gift from Clark and Sharon Bastian and Fidelity Bank signifies their dedication to Wichita State students who will help build our community's future," said WSU Foundation President Elizabeth King. "We are proud to be a trusted partner in their visionary work to advance our city and region."
–more–
Clark and Sharon Bastian, Fidelity Bank invest another $500,000 in new home for Barton School
Woolsey Hall will provide a collaborative learning environment that allows Wichita State to deliver the kind of business education students need to contribute to and compete in a rapidly evolving job market. Groundbreaking is scheduled for Oct. 22 and the new facility is expected to be completed in spring 2022.
Aaron Bastian, president and CEO of Fidelity Bank, said the bank is pleased to partner with Wichita State on the business school project.
"The progress of our family business and the city we call home is only possible when people work together toward a shared vision," he said. "Woolsey Hall will be so much more than a building. It will serve as a connecting point for students, businesses and community partners to learn from each other and nurture the type of innovative ideas that will help Wichita meet its great potential."

###
Contacts: Lori Linenberger, WSU Foundation Director of Communications, 316-978-6812 or lori.linenberger@wichita.edu