6.23.22
Credit Union of America continues educational legacy with $250,000 gift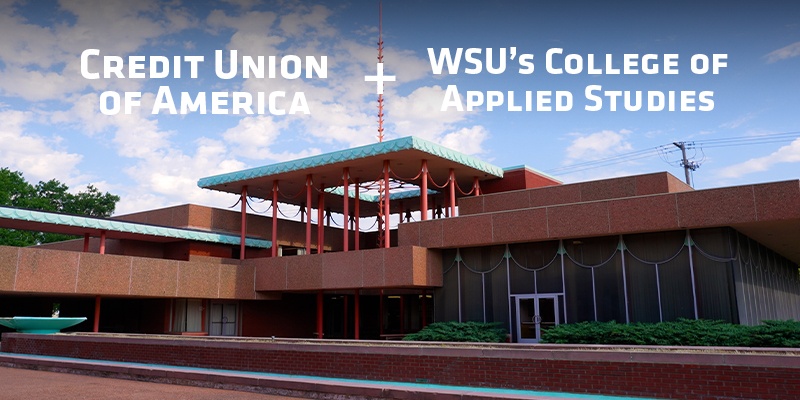 Born in the classrooms of Wichita East High School, Credit Union of America (CUA) began when a group of teachers pooled funds to create a loan for a fellow educator in need. While the name has changed since then, the company remains committed to its educational roots, recently pledging a gift of $250,000 to support WSU's College of Applied Studies (CAS).
"While we've come a long way from those humble beginnings, we've never forgotten where we came from," said Frank Shoffner, president and CEO of CUA. "Our founder, John Michener, believed in the power of education and helping his fellow educators. We want to honor that legacy and do everything we can to promote education in the community."
The gift to CAS helps support the Corbin Connect space along with the Teacher Apprentice Program (TAP), which provides an accelerated degree path for para educators to become full teachers of record. "We know that education is one of the biggest economic drivers in any community," said Shirley Lefever, executive vice president and provost at WSU. "When a family's income increases, the whole community benefits. Partners like CUA, who are deeply invested in the community, are just natural partners –we're all working together toward a common goal."
Many of the para educators enrolled in the TAP program already have significant experience in the classroom, but their salaries can make it difficult to pursue a typical degree path. This program is customized to meet their needs and recognize the experience they already have, while providing the education to open doors to a higher level of job opportunity.

"The partnership with CUA has really been transformational for us as a college," said Clay Stoldt, interim dean for CAS. "Part of their gift funds four TAP student scholarships that are awarded annually, and it makes a tremendous difference in the lives of these students and their families."
In addition to providing scholarships for TAP students, CUA's gift also supports a TAP graduation celebration each year. At the celebration, they provide graduates with a Teacher Toolbox full of supplies for their classrooms.
"It's one of the best parts of the year," said Stoldt. "TAP is an online program, so often that graduation celebration is the first time our faculty and staff meet their students in person – the warmth and gratitude is really impactful and CUA is right there with us celebrating these teachers.
A Corbin Connect community
A portion of the $250,000 pledge will continue CUA's support of Corbin Connect.
"It's both a program and a space," said Stoldt. "It's an outreach program for professional development, and much of that takes place outside the walls of Corbin. But we also bring groups in to collaborate and do training here."
The program reaches across a number of stakeholders and provides an extra element of education that goes beyond what students learn in the classroom and through applied studies. This past spring, CAS hosted educational leaders from several school districts for a dyslexia forum, discussing both how to better serve this group of students and also how to better educate college students to teach them.
"It's great to have this partnership," said Bradley Dyer, business development officer at CUA. "If we're going to be a strong organization in the future, the people we're hiring need to be well-trained and well- educated, so it's important for us to support educators."