2.25.21
For WSU, LEED certification of Wayne and Kay Woolsey Hall sets a precedent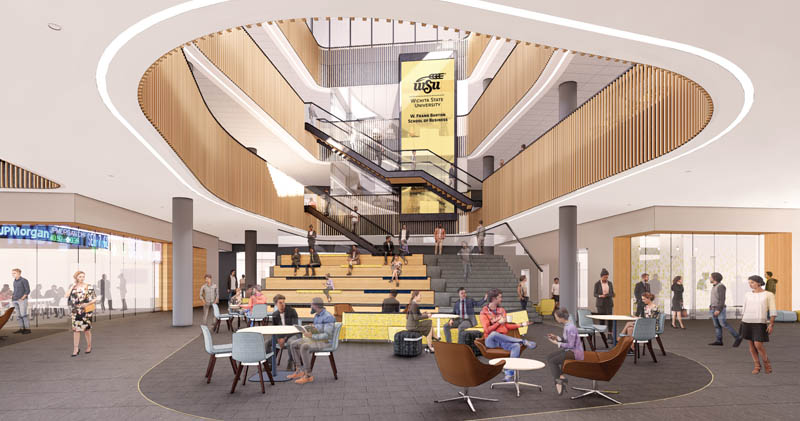 When it opens next year, Wayne and Kay Woolsey Hall will be the first building on the Wichita State campus to be LEED-certified. That designation is a commitment to high standards of design and construction that support sustainability, resource conservation and the wellness of people in the building.
"The LEED system serves as a framework for how we design, build and operate Woolsey Hall to be a high-performing facility," says Laura Pastine, director of sustainability for GastingerWalker&, the Kansas City-based architect teamed with design architect Gensler Chicago.
To achieve LEED certification, the project team of architects, engineers and construction company have to meet many requirements. They include:
Using fixtures and design features that maximize energy efficiency, resulting in a cost-savings in operating the building.
Creating conditions that support the health and wellbeing of the building's occupants, such as providing natural light and excellent acoustics.
Choosing landscaping to aid water conservation and exterior spaces to promote social interactions and physical activity, such as walking.
Students, faculty and those visiting Woolsey Hall may not notice the LEED elements, but some will be apparent. Motion sensors, for example, turn off lights when rooms are unoccupied and control faucets in restrooms. Woolsey Hall also will have a central, open-stair design that connects to all floors, which promotes walking and less reliance on elevators. A skylight system will provide abundant natural lighting to the building.
Informational signage will be displayed throughout the building so that visitors can learn about some of the key LEED approaches in the project. "The signage will create a tour so that visitors can walk the building and the site to experience the story of sustainability at Woolsey Hall," Pastine says.
Also notable:
LEED stands for Leadership in Energy and Environmental Design. It is a standard overseen by the U.S. Green Building Council.
There are varying levels of LEED certification, with the highest being platinum, followed by gold, then silver. Woolsey Hall will be certified at the silver level.
Buildings with LEED certification are shown to consume 25 percent less energy and 11 percent less water than typical buildings.
Watch live progress of the construction at https://foundation.wichita.edu/school-of-business/