2.26.21
Forward, with purpose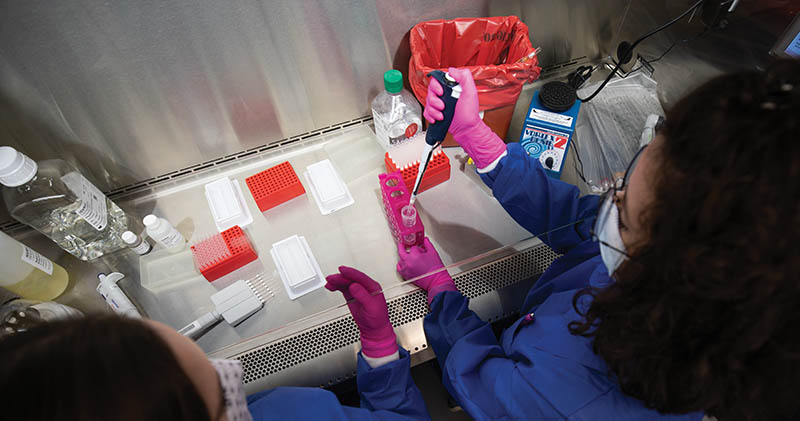 While the search for a new president for Wichita State University moves forward, the university hasn't pressed pause, says Interim President Rick Muma. • "We can't wait for the next leader to be in place before we chart a course for where we're going," he says. "Our constituencies – whether it's faculty, staff, students, our community, our alumni – they want to see progress, trust our decision-making and have confidence we're addressing the right issues." • Muma has spent the past few months meeting with state legislators, community groups, the Kansas Board of Regents and campus groups to highlight success stories at Wichita State. Here are a few examples.


Molecular Diagnostic Lab
WSU's Molecular Diagnostic Lab is on the front line of combatting the spread of COVID-19 in Kansas. Launched in October, the facility has processed more than 100,000 tests so far from counties throughout Kansas, identifying hot spots and helping businesses and schools operate safely.

"It's the only high-volume test lab of its kind in the state," Muma says. "It's digital transformation in action. We're combining the expertise of our medical laboratory sciences in the College of Health Professions with our robotics expertise from the National Institute for Aviation Research. It's a forward-thinking initiative that is benefiting our entire state."

Additionally, the lab has provided applied-learning experiences for 26 WSU students, hiring them for a variety of jobs including marketing, tech support, supply chain, specimen processing and test-kit production.
Digital Transformation

With the new National Institute of Digital Transformation, Wichita State is emphasizing research and technology development that will help industry capitalize on the data revolution now underway. Students also will benefit from this focus on digital transformation by acquiring knowledge and skills their future employers will find invaluable.

Groundbreaking for a new facility to house the Institute will take place this summer on the Innovation Campus. The Institute will be modeled after WSU's highly successful National Institute for Aviation Research.

"The focus will be on transforming and driving economic development in other sectors of our economy, as well as aviation," Muma says. "Advanced manufacturing, health care, energy, defense – we will help grow these industries through advancements in digital technology."
New Degrees, Schools
The commitment to digital transformation requires new and expanded academic programs. To that end, the Kansas Board of Regents recently approved four new degree programs at Wichita State – master's degrees in data science, business analytics and mathematical foundations of data analysis, and a bachelor's degree in applied linguistics.

Additionally, WSU's new School of Computing and School of Digital Arts are key to the university's mission to prepare the digitally skilled workforce needed by industry.
Research and Innovation
Two new industry partnerships are serving as cornerstones to Wichita State's focus on digital technology research. NetApp, a global data storage and cloud management company, is moving its 168,000-square-foot Wichita headquarters to the Innovation Campus, along with 600 employees. Construction of a new facility will be completed in 2021.
And Deloitte, an international company that provides professional services to business, is building the Smart Factory@Wichita on the Innovation Campus. The new facility will explore how to use technologies such as artificial intelligence and robotics to manufacture products.
"These are opportunities to harness Wichita State's strengths in computer science, advanced manufacturing, cybersecurity and more to advance human knowledge, provide hands-on learning experiences for students and help create economic growth for our region," Muma says.
Enrollment Strategies and Affordability
Wichita State is meeting goals put in place by the Kansas Board of Regents to provide an affordable and accessible education, Muma says. Of the three largest state universities, Wichita State offers the lowest annual tuition cost – about $8,300 compared to $10,600 for Kansas State University and $11,200 for the University of Kansas. WSU also has the lowest tuition compared to 13 other research universities in our region.
Additionally, since 2014, Wichita State's I-35 Corridor strategy has resulted in a 200 percent enrollment increase in students who live in communities along the interstate from Wichita through Texas. The I-35 Corridor strategy offers in-state tuition rates to these students and has been expanded to include students from Missouri and Colorado. This initiative is focused around attracting talent to Wichita and helping local businesses grow and succeed.