1.27.23
Honorary alumna was devoted to church, family and Wichita State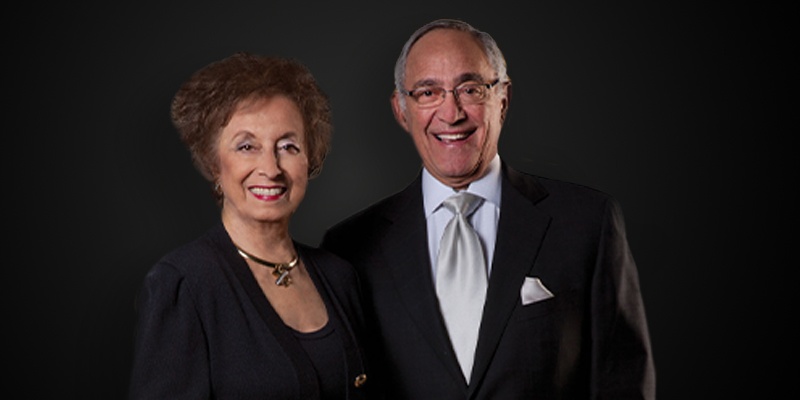 Jacqueline "Jacque" (Naifeh) Kouri was such a tried and true Shocker, it may be surprising to learn she attended the University of Oklahoma, where she met the love of her life, Dr. Sam Kouri.
Jacque and Sam, both native-born Oklahomans, were married June 16, 1957, the weekend after his graduation from medical school. The young couple came to Wichita for his one-year internship at Wesley Hospital and then returned to Oklahoma City for his four-year surgery residency. In 1962, they moved to Wichita for good and raised four children, Debbi, Tami, Sammy and Stephanie.
Their contributions to Wichita and the wider region are widespread. Of specific note among the many organizations and institutions the Kouris supported through the years is the St. George Orthodox Christian Cathedral, where Jacque was not only locally but nationally involved. She was a member of Ladies of St. George and the Cathedral Choir, chaired the St. George Cathedral Annual Public Dinner and served as president of the national Antiochian Women's Organization.
Their decades of service to Wichita State began when, as a young physician, Dr. Sam worked as a Shocker athletics physician. Active supporters of all Shocker sports through the years — especially football, basketball and baseball — the Kouris endowed a men's basketball scholarship, were principal contributors for the Champions Club at Koch Arena and donated to the renovation of Eck Stadium and the construction of WSU's indoor baseball practice facility.
A familiar figure at Shocker sporting events, Jacque was just as active in many other Wichita State arenas. She served on the WSU Foundation Board of Directors, the Advisory Art Committee for the Ulrich Museum, the Fine Arts Board and the WSU Foundation's National Advisory Council. The Kouris also contributed to the university's Outdoor Fitness Paracourse, which now carries their name, and the Collection Study Center at the Ulrich Museum.
In 1998, the Kouris were recognized with the Fairmount Founder's Award, and in 2001 the WSU Alumni Association honored them with honorary alumni status. In 2011, they were presented with the WSU Alumni Recognition Award.
"Jacque was a truly genuine person whose character was defined by her faith and her commitment to family," says Elizabeth King, president and CEO of the WSU Foundation and Alumni Engagement. "Jacque was such a warm and caring person. We will miss her greatly." Jacque Kouri died Jan. 23, 2023 in Wichita.