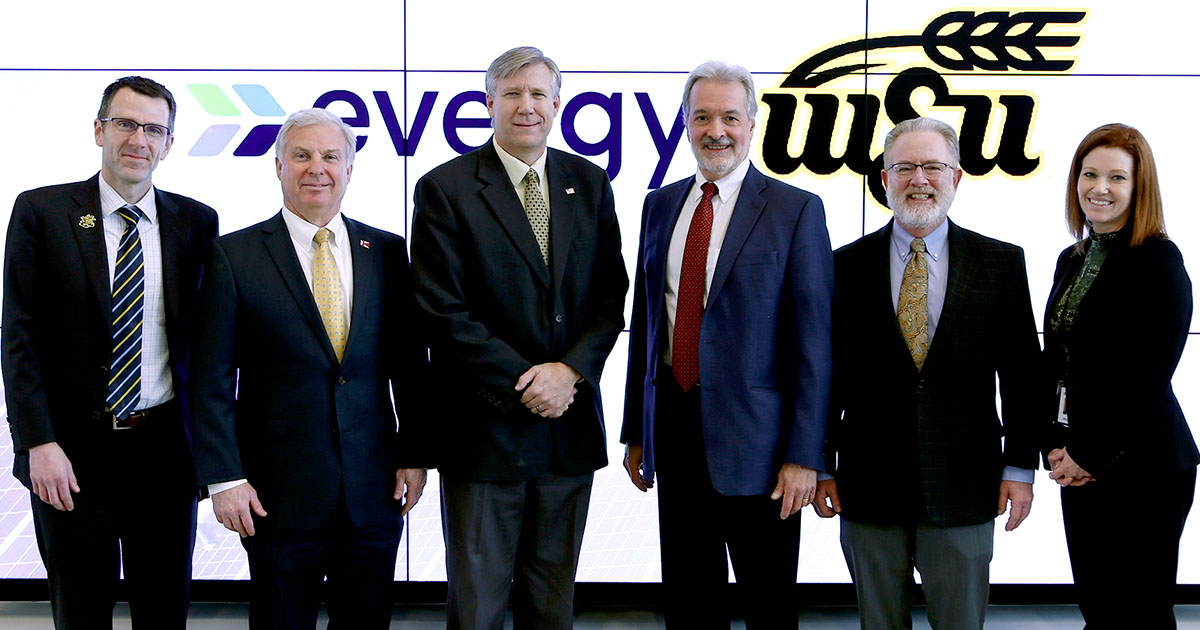 Evergy is taking its longtime relationship with WSU's College of Engineering to the next level by investing generously in three initiatives that will strengthen the college's electrical engineering program.
In an especially noteworthy move, Evergy chose to honor Ward Jewell, the professor who has nurtured the decades-long partnership with the utility, by naming a new Faculty Fellow position for him. Funds donated by the company will provide resources to the faculty member who holds the position in recognition of his or her commitment to educating aspiring engineers.
"With this gift, Evergy is demonstrating once again its confidence and trust in Wichita State's ability to prepare engineers for the challenges that lie ahead for the power industry," said College of Engineering Dean Dennis Livesay. "We both have the same goal – to make sure our students have the skills they need to succeed."
Besides the Faculty Fellow, Evergy is investing in two other projects. The first is the purchase of solar panels that will be installed on the roof of the John Bardo Center (WSU's Experiential Engineering Building) so that faculty and students can study this important renewable energy source and conduct research. The panels will be just steps away from the Renewable Energy Lab, which will be named for Evergy in recognition of the gift.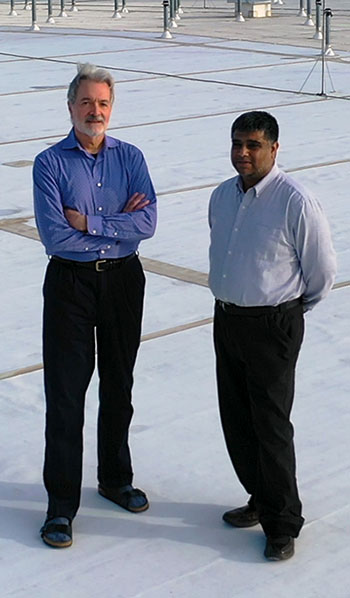 The second is a gift-in-kind to provide real-time data from the new Evergy substation on the WSU campus to a power lab in Wallace Hall. Faculty will use the data to teach and do research on protecting the electric grid from short circuits and other problems that can occur.
Jewell has worked closely with Evergy and its predecessors since he arrived at Wichita State in 1987, when it was Kansas Gas & Electric. It evolved over the years into Western Resources, then Westar before changing its name to Evergy last year.
"The reason that Wichita State has a program in electric energy engineering is because of Evergy's support," Jewell said. "They have supported us with research funding, with engineering assistance, they send people to our classes to teach. They have been an important part of our history."
Evergy recognizes the importance of contributing to the education of engineers who might someday be working for the utility, said Jeff Martin, Evergy vice president for customer and community operations.
"We want to do our part to ensure the engineers of tomorrow are equipped with the tools necessary to help advance our world through their innovations," Martin said. "This gift strengthens the relationship between Evergy and Wichita State because it affords the university the opportunity to teach students and conduct research in the burgeoning areas of solar energy and data science."
Martin said Evergy looks forward to continuing the relationship with Wichita State for years to come.
"So many of our engineers – from planning to generation to transmission – have graduated from this program and are helping provide a necessary service for Wichita and other communities," he said.
Jewell praised the quality of experiential learning that students will have by working directly with solar energy transmission and data from the power system serving the WSU campus. "That's what the students value and want," he said. "And they notice where that kind of support is coming from. When they see Evergy supporting our labs, supporting faculty, that says a lot. It gets their attention."