9.28.22
How a gift of grain will create a world of music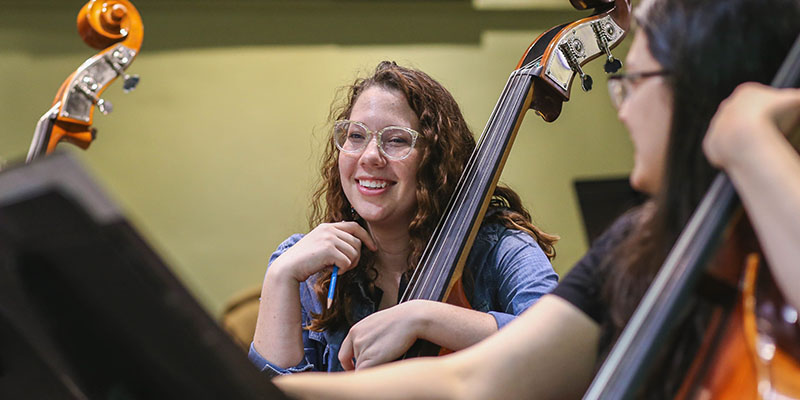 Nancy Kerr has loved music for as long as she can remember. She grew up in a home where it was a part of life, singing in the church and school choirs and taking cello lessons from age 13 and up. When she and her husband, Fred, decided to fund an endowed scholarship at Wichita State, she knew she wanted it to support music students. But what truly makes their scholarship unique is the way they chose to fund it.
"It's not so unique among farmers because it creates reciprocal benefits for us to give this way," said Fred. "But it is rather meaningful to us to be the first ones to make a gift of grain in Wichita State's history."
Brad Kohlman, the director of development for Kansas Counties at the WSU Foundation, said it was fun to work through the process of the grain transfer with the Kerrs, especially as it was a new process for the entire Foundation team.
"I love that this form of giving does so many beneficial things," said Kohlman. "It benefits the students of Wichita State, it benefits the Kerrs, and the grain still gets used as it was originally intended to, either to feed people, livestock or create other products that benefit our society. Gifts like this really demonstrate just how many ways there are to give to the university."
Fred and Nancy used 5,000 bushels of corn to endow the Nancy Okerberg Kerr Scholarship, which will go toward music education students, with a preference for those from Comanche, Barber, Kingman, Rice, Kiowa, Stafford, Pratt and Harvey counties.
"Music is a powerful way to express emotions where words fail. Good music education teachers make a huge difference in the lives of students and the community," said Nancy. "It's a very rewarding field, and I hope this scholarship encourages and motivates students to follow that path."
Nancy and Fred wanted the scholarship to honor Nancy's sister, Beverly Okerberg Jackson, who is a lifelong supporter of music education. She is well-known for her award-winning choral groups, stage productions and international touring. Both Beverly and Nancy believed that music education is a powerful way to make a difference in the lives of others – a legacy Nancy hopes is continued through this scholarship.

"It means a lot to us that we can help relieve the burden of financial debt for students," she said. "The ability to help them focus on being students is really the most inspiring aspect about this for us – the experiences they can get at WSU will lead them right into the beginning of their careers, and we're happy to help make that possible."