8.31.22
Leanne and Steve Caret look toward the future of education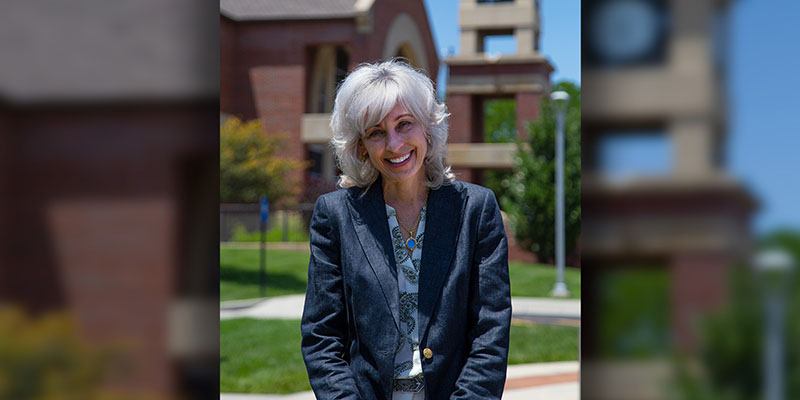 A strong believer in her Kansas roots, Leanne Caret will put her education up against anyone. From Derby High School to Kansas State University for her undergrad and Wichita State University for her master's degree, Caret believes the skills and relationships she gained through her educational journey helped carry her through her career.

Her belief in the power of education goes beyond words. For years, she and her husband, Steve, have helped fund scholarships and educational opportunities and want to continue that support for generations to come through a planned gift to Wichita State.

"Helping make education less of a burden gives people a chance they might not normally have," said Caret. "We've been very blessed in our personal and professional lives, and we want to pay it forward. It's as simple as that."

Both Leanne and Steve received financial assistance during their time as students, and Leanne recalls how much of a difference it made in her life. "It's recognition of the hard work you've put in to get to school, and it demonstrates that people believe in you. Sometimes you just need that one person who believes in you in order to believe in yourself. And someone else's investment in you gives you a sense of pride and ownership in your future."

Caret graduated with a master's in business administration from Wichita State University in 1990, and she credits that program with equipping her to succeed in a leadership development program at Harvard University years later.
"Everything we did at Wichita State was so relevant, and it had a deep impact on my life," she said. "As you advance in your career, the ability to interact with others, speak to different subject matters and learn to communicate well — it's all extremely important."

As an executive vice president and senior advisor at Boeing, Leanne's career has taken her around the world. Her global perspective is one of the things driving her excitement for the future of Wichita State.

"I love that the university has continued to reinvent itself over the years. It's always been viewed as a local school and university, but it really is a destination university," she said. "The partnerships Wichita State has established with industry – both local and global – will have far-reaching impacts. The university is helping make Wichita a destination for global technological advancement."

Leanne and Steve's generosity will help generations of Wichita State students achieve their dreams of higher education, but to them, it's not about creating a legacy. It's about paying it forward.

"Not everyone gets the luxury of growing up in a community and a town like Wichita. There's a work ethic and perspective that comes with it, and a sense of community that stays with you forever," said Caret. "The fact that we can help create that for somebody else or make it easier for them – that's just paying it forward."