9.28.22
Need-based scholarships help students excel beyond the classroom
Valeria Paunetto, a sophomore at Wichita State studying social work, spends every spare minute of her time leading other students toward success. As the recipient of need-based scholarships at WSU, Paunetto knows how important it is to have someone standing in your corner.
"I can't express the impact of need-based aid enough. It's often what enables students to have a positive college experience and focus on their academics," she said. "You can work several jobs and take classes at the same time, but your priority is on surviving, not excelling academically. That affects how you become a professional."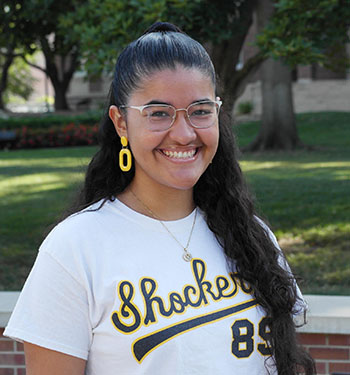 Paunetto isn't alone in recognizing this. Jordy Mosqueda, a junior at Wichita State, echoed her thoughts. Mosqueda is a Rudd Scholar and a recipient of the KHEDF scholarship, both of which allowed him to pursue dreams he thought were out of reach.
"Having a scholarship does so much more than relieve the burden of college expenses," he said. "It gives you the opportunity to explore your own path and passions. I can try different things and get involved in lots of organizations to see what I enjoy because I'm not working two or three jobs just to get by."
Like Paunetto, Mosqueda is highly involved across campus. He serves as the vice president of his fraternity, president of the Multicultural Greek Council and as a Passage to Success leader.
"Being involved on campus and meeting new people is so important," he said. "You learn how to take leadership positions, but even more than that, you learn when to step back and let others lead because you can't do it all."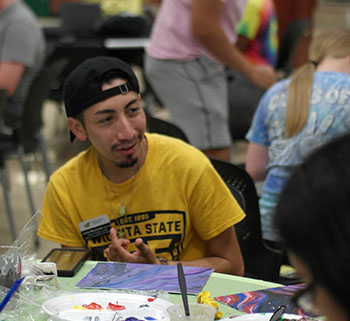 Studies have shown that student involvement on campus doesn't just create opportunities for leadership development, it helps improve academic performance, overall well-being and multicultural awareness. For Paunetto, it also helps her apply the things she's learning in the classroom.
"Almost all of the work I do on campus is interacting with other students and learning how to be an advocate for them, which is perfectly interconnected with my major," she said. Paunetto is a Passage to Success mentor like Mosqueda, works in the Office of Diversity and Inclusion and serves as a student government senator for the Honor's College. "Advocating for students who have had the same experiences is so important to me. I always encourage them to apply for scholarships and tell them they are capable of doing anything."
The average financial aid gap for undergraduate students at WSU is $1,600. Last year, the WSU Foundation raised more than $15 million toward need-based scholarships, helping narrow that gap and provide more opportunities for Shocker students.
Providing need-based scholarships is one of WSU President Rick Muma and the WSU Foundation's top fundraising priorities. To learn more about how you can support students like Paunetto and Mosqueda, visit the Foundation's website.