9.27.21
Notable news at the WSU Foundation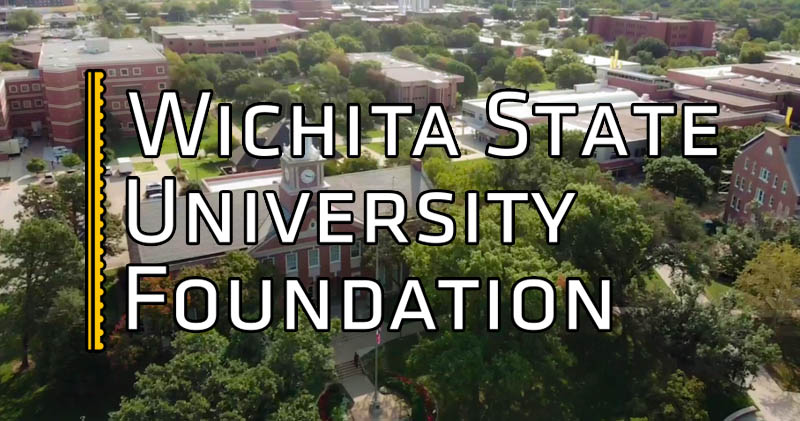 Milestone anniversaries
Recognizing WSU Foundation employees who are marking significant work anniversaries.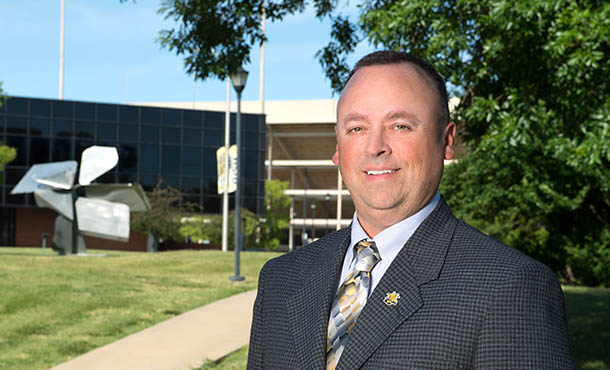 Aaron Winter
Aaron Winter is celebrating five years holding various development positions with the WSU Foundation. He currently is director of development for the College of Applied Studies and also development representative for Oklahoma and Arkansas, serving alumni, friends and donors in those states. Before coming to the Foundation, he worked for 17 years in the Advancement Office of Friends University, his alma mater. He graduated with a bachelor's degree in Business Administration and a master's degree in Management. Aaron's personal life is centered on his family – wife, Becky, and three children, Zach, Nicholas and Abbi. When's he not attending one of their games or practices, he tries to get in some golf.
A lifelong Wichitan, Aaron has made many memories building relationships with alumni and donors. In his words: "From the people I work with at the Foundation and across campus, to the many Shocker alums I now consider dear friends, I can honestly say that each and every one of these amazing people has helped collectively make my five years at WSU the favorite time of my career."
---
New staff members
The WSU Foundation recently hired two new team members. Please welcome:
Mary Beth Housdan
Mary Beth is the Foundation's new graphic designer, responsible for creating the visual look for printed and digital pieces used to communicate with diverse audiences. She started her career as a designer for the Winthrop Rockefeller Institute, a nonprofit organization in Arkansas. After moving to Wichita in 2013, she joined Fidelity Bank's marketing department, rising to senior digital marketing designer during her eight-year tenure. Born and raised in the Texas panhandle, Mary Beth graduated from Arkansas Tech University with a bachelor's degree in graphic design. She is married to Jeremy and has a dachshund named Zoey. She and Jeremy are both musicians and enjoy the Wichita Symphony Orchestra and other musical talent in Wichita. They are also active in their church. Coming from a family of educators, Mary Beth is excited to help tell Wichita State's story and communicate the work the WSU Foundation does to demonstrate the impact of philanthropy on higher education.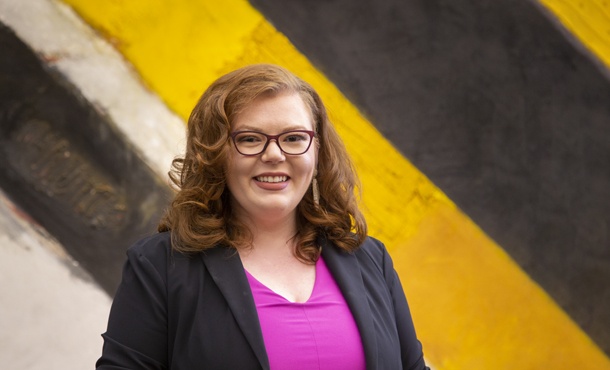 Sierra Bonn
Sierra has joined the Foundation's development team as associate director for corporate relations, working to achieve goals for corporate giving and to represent WSU strategically in industry partnerships. This is her first job after graduating from Wichita State in 2021 with a degree in engineering technology. While a student, she worked in the Office of First-Year Programs as a transition mentor and, more recently, for the WSU Office of Tech Transfer and Commercialization. Sierra considers El Dorado her hometown, though she grew up in a military family that lived in several different places. She participates in the Miss America Organization and is currently serving as Miss El Dorado 2021. She also is a passionate advocate for STEAM education (science, technology, engineering, arts and math). Sierra's interest in working for the WSU Foundation began when she served alongside Foundation President Elizabeth King on the search committee for a new Wichita State president last spring. "I knew that I could learn a lot from her and her team," Sierra says. "I'm excited to stretch and grow my skills in this new role."