2.23.23
Noted judge and journalist inducted into Hall of Fame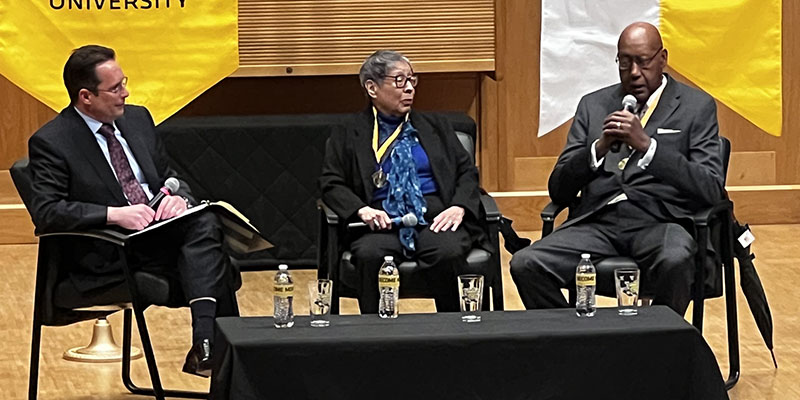 Earlier this month, Elvira J. (Valenzuela) Crocker '61/61, who holds degrees in journalism and English literature, and Louis E. Sturns '71, who earned a bachelor's degree in political science at WSU, were inducted into the Fairmount College of Liberal Arts and Sciences Hall of Fame during an afternoon ceremony in Wiedemann Hall.
The two Shocker alumni were chosen for induction because they each exemplify the merits and advantages of a liberal arts and sciences education through their individual accomplishments, Crocker as a journalist and in public relations, and Sturns as a lawyer and judge. Both have broken through significant civil rights barriers over the course of their careers.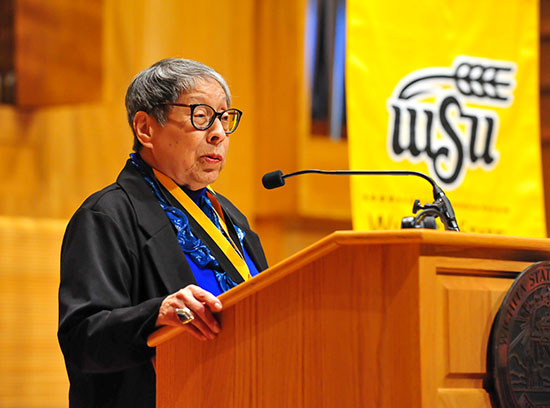 As a student at the University of Wichita, Crocker worked as a student assistant in the public relations office and wrote for The Sunflower. Her first full-time job in journalism was at the Dodge City Globe in Dodge City, Kan., not far from Garden City, Kan., where she grew up.
After a year, she joined the reporting staff at The Wichita Eagle and Beacon, where she became the women's news editor — and met her husband, Richard.
After the couple moved to Washington, D.C., Crocker took on and excelled in a number of public relations positions. She wrote and edited reports for the U.S. Commission on Civil Rights Mid-Atlantic, for example, was a spokesperson for the U.S. Department of Education and served as president of the Mexican American National Women's Association and as director of communications for the Hispanic and Latino communities advocacy group, National Council of La Raza (now UnidosUS).
Now retired, Crocker has since returned to Wichita, where she's again a familiar face at Wichita State. "Never stop learning," she said during an audience-involved panel discussion moderated by Andrew Hippisley, Fairmount College dean, during the Feb. 7 induction ceremony. She takes classes through WSU's adult learning program.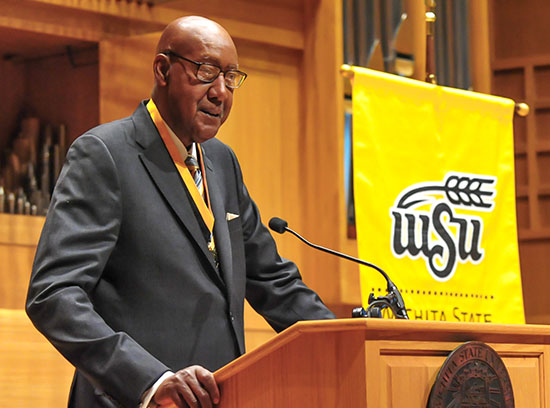 Sturns, a native of Fairview, Texas, attended Wichita State on a ROTC program and supplemented his finances with stints driving a school bus and waiting tables. He earned his Juris Doctor from the University of Kansas School of Law in 1973 and practiced law for more than a decade (first as a military attorney in the First Cavalry Division based at Fort Hood, Texas, and then in private practice in Fort Worth) before becoming in 1987 the first African American in Texas to be elected judge of the Criminal District Court No. 1 in Tarrant County. He is also the first African American to serve as president of the Tarrant County Bar Association.
In March 1990, Sturns walked into the judicial history books as the first Black judge to serve on the Texas Court of Criminal Appeals, the state's highest court for criminal cases. When making the historic appointment to the high court, then Texas Gov. Bill Clements described him as "an individual of absolute integrity and proven ability. He is widely respected for his reason, his fairness and balance."
Begun in 2021, the Fairmount College Hall of Fame is the "highest recognition of outstanding alumni who have had a significant impact on the region, nation and world." Read more about the Hall of Fame.