9.27.21
O'Bleness family gives generously to Wichita State to create a legacy of caring and service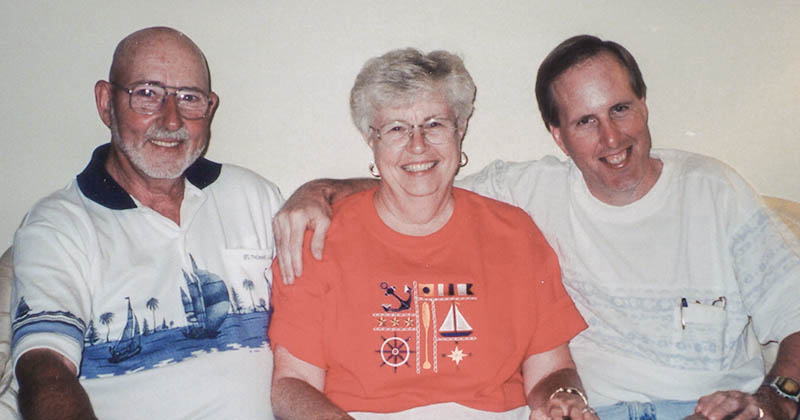 When Robert Allen O'Bleness died in 2010 at the age of 48, his parents, Ann and Robert, wanted to honor his life in an everlasting way. So, despite having no connections with Wichita State University, they endowed a scholarship in his name in the WSU College of Health Professions.
"After Bobby passed away, many people shared how he was always ready and willing to assist anyone with anything," says his sister, Kathleen Jenkins. "Mom and Dad wanted to assist those trying to earn a degree in the health field so they could assist others – thus keeping the spirit of Robert Allen alive."
Today, the Robert Allen O'Bleness Scholarship has evolved into the O'Bleness Family Scholarship to reflect a substantial estate gift made by Ann and Robert upon their deaths, Ann in 2016 and Robert in 2020. The Wichita couple designated the estate gift should supplement the scholarship and strengthen its impact for generations to come.
Since the scholarship was first awarded in 2012 and including the estate gift, the total value of the O'Bleness family contribution to Wichita State is about $740,000, says Mike Lamb, WSU Foundation vice president.
"This is a special story of two people who wanted their son's life and his kind ways to be remembered and have an impact," Lamb says. "What better legacy than to help educate the people who will care for and nurture others in their professional lives."
Robert Allen O'Bleness was the youngest of four children of Ann and Bob O'Bleness, with three older sisters. He was known through his life as Bobby, Bob, Bob-O, Robert and Roberta when his sisters would playfully dress him up as the fourth sister, Kathleen Jenkins says with a laugh.
Robert Allen drove for a couple of trucking companies and eventually worked for an outfit known for driving semi-trailer trucks on concert tours for artists such as Kenny Chesney, Vince Gill, Rascal Flatts and Carrie Underwood. He was driving an 18-wheeler for Carrie Underwood and was 10 minutes away from the concert venue in Connecticut when his rig crashed.
"Based on eyewitness reports, we believe he had a medical condition that left him slumped over his steering wheel," Jenkins says. "Then, when the gas tank was ruptured and came into contact with the catalytic converter, the rig exploded. It was the worst day in his parents' life and for everyone who knew and loved him."
Among those attending his funeral service was Vince Gill, who performed the song "Go Rest High on That Mountain."
Since Robert Allen was not married at the time of his death, his parents devoted the proceeds of his estate to the Robert Allen O'Bleness Scholarship at Wichita State. Ann O'Bleness passed away suddenly in 2016, a few weeks before her 82nd birthday. Her memorial was to the Robert Allen O'Bleness Scholarship. Shortly after, the scholarship was renamed the O'Bleness Family Scholarship.
Robert J. O'Bleness died in 2020 at age 87, on the third Saturday of March, the same day his son and his father, Ira O'Bleness, had died.
"Our family's pain is also tinged with gratitude because we know this scholarship will assist deserving students for years to come," Jenkins says. "The spirit of our parents and brother will live on in the ways these students will serve humankind in the healthcare industry."If you would like to learn more about arranging an estate gift to help WSU students, contact Mike Lamb, WSU Foundation vice president, at 316.978.3804 or mike.lamb@wichita.edu.