3.9.23
Shocker alumna returns to campus to share aerospace industry insights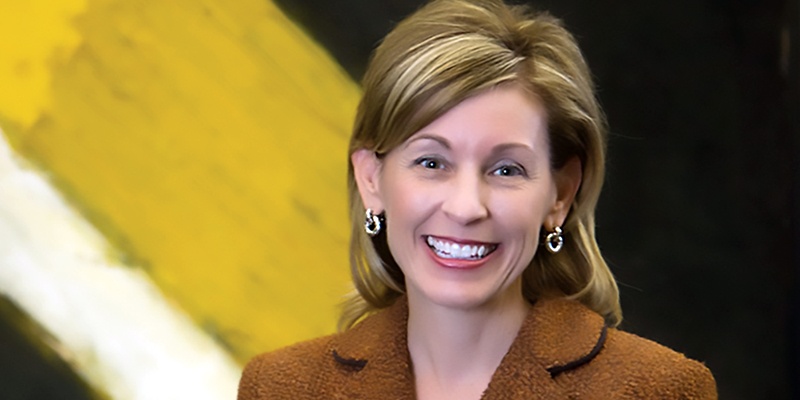 Leanne Caret '90, former president and CEO of Boeing Defense, Space & Security (BDS), is set to return to Wichita State this spring to share insights gleaned from her more than 30 years of aerospace industry experience. "I'm really looking forward to personally engaging with students, as well as faculty and others, in one-on-one settings and small groups," Caret says about her upcoming campus visit as 2023 engineer-in-residence for the College of Engineering.
Caret, who served as an executive vice president and a senior adviser to support the BDS leadership transition process until her retirement from Boeing in 2022, currently serves on the United Service Organizations board of governors, the Raytheon Technologies board of directors, the John Deere board of directors and on the George W. Bush Institute's Women's Initiative Policy Advisory Council. "She is passionate about guiding future generations toward success, especially women and underrepresented groups," says Anthony Muscat, dean of the engineering college at WSU. "Her experience within the business community will be an exceptional asset for our curriculum conversations on how to expand the applied learning model."
A second-generation Boeing employee whose parents both worked for the aerospace giant, Caret began her career in Wichita in the company's finance department in 1988, two years before earning an MBA from Wichita State. After holding various program management positions, she served as chief financial officer and vice president of BDS and then as president of Boeing Global Services and Support until taking up the role of president and CEO of Boeing's St. Louis-based defense, space and security unit in 2016 — becoming the first woman to head one of Boeing's three major business units.
"I've had the blessing of working with the greatest engineering minds and seeing amazing feats accomplished throughout my career," Caret says. "When I return to Wichita State, my hope is to provide perspective and connect the dots between technology and business. Additionally, I'll be able to learn from some of the most talented engineering students about what matters to them, how they view the future and what they want from their companies and communities."
Caret credits her own learning experiences as a graduate student with undergirding her many career successes at Boeing. "I had the great fortune to really learn how to work as a team through project and lab work," she explains. "Being together, being connected, learning from each other — that is what makes WSU such a great experience. School is hard. Balancing homework with jobs and life is hard. Finding time for yourself can be hard. WSU allows an opportunity to build a network of colleagues and friends who will be connected throughout your entire life and help you along your journey."
During her time as an engineer-in-residence at WSU, Caret will advise on approaches to attract and retain more women in engineering. She'll also mentor members of a newly formed young professionals group, collaborate with engineering college leaders on ensuring that professional development curriculum aligns with business community needs, and — what she's especially looking forward to — talk with engineering and computing students.
"I get the greatest joy from small group interactions," she says. "I've found that these types of engagements allow space for real conversations to occur. Most importantly, I want to be able to help students see that they can be their authentic selves and be enormously successful — as they define success."
For more about Caret and the WSU College of Engineering's engineer-in-residence program, visit WSU News and read "Boeing in her Blood."
Upcoming events:
Caret will visit Wichita State University on Monday, March 27. Caret will be featured at two speaking events that students, staff, faculty, alumni and industry partners are welcome to attend.
The first speaking event, "How To Navigate Your Way to the Top," will be a question and answer session hosted by Dr. Anthony Muscat, the dean of the college. The talk will be from 10 to 11:30 a.m. in the Rhatigan Student Center, room 301. Donuts and coffee will be served.
The second speaking event, "A Conversation With Leanne Caret," will be a question and answer session hosted by Grace Peterson, a junior mechanical engineering major and the president of the Society of Women Engineers (SWE) student organization. The talk will be from 4 to 5 p.m. in Jabara Hall, room 128. Cookies and iced tea will be served.