8.24.23
Shocker alumna takes on new role as art director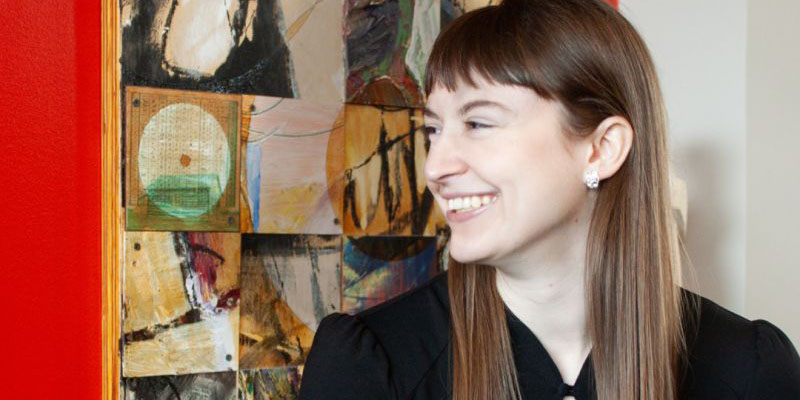 Creatively, Tasha Wentling '19 has enlivened many a design project at Greteman Group (GG) — working on everything from branding and identity, to website design, motion graphics, illustration and more. After four years as a graphic designer with the Wichita-based aviation-focused marketing agency, Wentling has been promoted to art director.
"Tasha's way of approaching a challenge always provides creative solutions for a client," says Sonia Greteman '82, creative director. "She brings elegant, modern designs to the table, while taking a holistic approach to the medium and how it will work digitally."
About her new position, Wentling says she's looking forward to "utilizing more of my leadership skills and continuing to produce quality design work."
At GG, Wentling's work has been the center of campaigns and branding internationally through advertising, tradeshows, websites, collateral and other digital projects. Her work locally has included crafting complementary aesthetics to highlight galleries and artists. She has expanded her digital capabilities to answer clients' needs for engagement in social media and non-traditional campaigns.
"One of my favorite projects here at Greteman Group has to be the motion graphic I designed and animated for PBS Kansas," Wentling says. "It was such a fun campaign to work on, and I love seeing it in the real world. My motion graphic skills have grown so much in the last five years, and I have really enjoyed where they have taken me so far."
Wentling joined GG after an internship and graduation from WSU's School of Art, Design and Creative Industries. The graphic design grad says that among the things she learned at Wichita State that she uses regularly post-graduation is "how to talk about my work and articulate the thought behind it. Good design is intentional design, so you should be able to back up every decision behind a project in order to sell the concept."
She adds, "Another thing I learned at WSU is that design has rules, but it's also good to break them sometimes. This was a struggle for me at first, but it has helped me push my boundaries in design and led to more interesting work."
Her work has won national awards including recognition from the American Institute of Graphic Arts and National Scholastic Press Association. She has led her own photography and art exhibits in Wichita and regionally.
As a WSU student, Wentling exhibited a unique palette of creative projects, including "Hotel Tempus," a photographic representation of a time-travelers hotel. The 2019 exhibition on view at the university's Wilson K. Cadman Gallery was complete with a check-in desk and a cast of mysteriously spooky guests. She says she worked on the photography show for months and
took inspiration from such classic horror films as "The Shining" and "The Grand Budapest Hotel."
The show featured photos of numerous hotel guests, played by Wentling's friends and family. Employing her graphic-design acumen, the exhibition also included many different design elements, including a menu for the hotel's bar and a brochure for the hotel.
"I realized the hotel concept has a lot of mileage in it, because anyone can stay there," she says about her student project. "And then if I make it a hotel for time travelers, it makes the options even broader. I wanted something weird and spooky and something I could make really beautiful."
She showed the exhibition at CityArts in 2022 with additional photos and interactive elements, including a time capsule for visitors to unlock and a talking suitcase. And she has news to share about an upcoming exhibition: "I'm showing the exhibit again with further additions this October at Studio School. There will be receptions on Friday, Oct. 13 and Friday, Oct. 27."
Perhaps sans the weird and spooky, Wentling is primed and ready to continue her work of making things beautifully effective in her new role as art director.