2.23.23
Shocker alumnus supports the next generation of speech language pathologists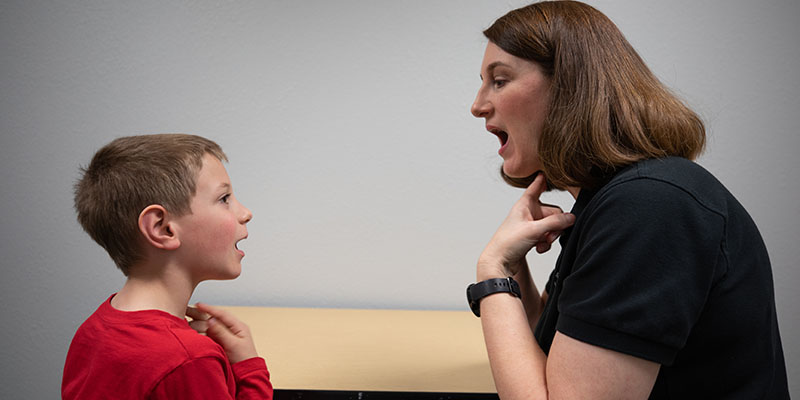 The Department of Communication Sciences and Disorders (CSD) at Wichita State has a history dating back to 1934, and over the years it has played a critical role in educating and supporting the Wichita community. Nancy Crandall has seen many of the department's changes first-hand, and is now helping create opportunities for future generations of Speech Language Pathologists (SLPs) with an endowed scholarship.
Crandall received her master's degree from Wichita State in 1970, when she was also working at the Institute of Logopedics, a clinic attached to WSU's CSD department. At the time, a bachelor's degree was the only requirement to work in the field, but Crandall saw the benefits of additional education and found a way to get her master's degree while working and raising a family. She received a small scholarship that helped cover tuition, which is part of her reason for creating the scholarship for future SLP students.
"It wasn't a big scholarship, but it was enough to pay for tuition and that was a big deal," said Crandall. "It's a big deal when you're juggling all those balls and keeping everything going."
Over her 50+ years in the field, Crandall lived through a lot of change, but her love of her work kept her inspired to help her patients and their families. During her career, she helped stand up the SLP programs at three area hospitals: Wesley, Saint Francis and Saint Joseph.
"It really grew one patient at a time as different physicians saw how our work helped," said Crandall. "Some people used to think our work didn't make much of a difference, but we've gotten away from most of that, and people see the importance of it now."
The Department of CSD has grown alongside the progress in the field, and it now offers a masters program and two doctoral tracks. The Wichita State Evelyn H. Cassat Speech-Language-Hearing Clinic was recognized in 2022 with a "Best of Wichita" award, and a new Audiology Simulation lab and summer fluency and literacy camps are helping continue to provide experiential learning opportunities.
Crandall hopes the department at WSU and the field continue to grow, but she mostly hopes she'll be able to help someone else do what they love.
"It's so important to do what you love," she said. "Whatever the field it is. Do what you love."