5.26.23
Shocker Q&A with spring graduate Liz Dickerson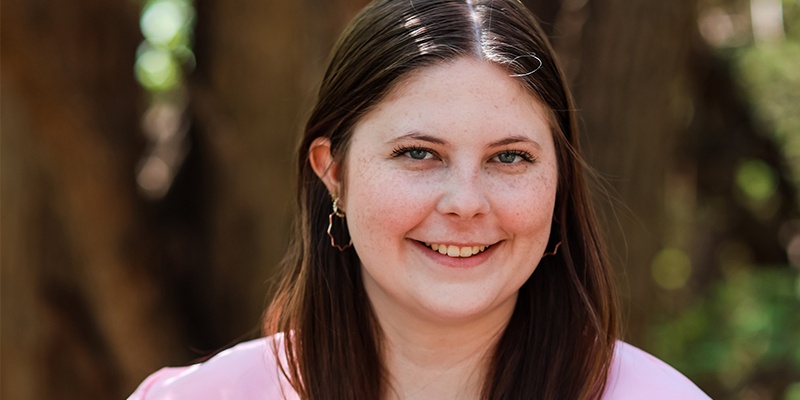 Shocker profiles highlight the students, alumni, supporters, faculty and staff who make Shocker Nation all that it can be. These short Q&As allow you to hear from these remarkable individuals in their own words.
How have you gotten involved on campus?
I've been involved in Tri Delta Sorority for a few years. This last year, I served as our chapter president. As president, you have the responsibility of overseeing the operations and ensuring that things go smoothly. An average day involves a lot of meetings, and in between meetings, I attend classes and do homework.
What are you studying?
I'm graduating this spring with a bachelor's degree in accounting. I really love the business school at Wichita State because it places such a high emphasis on real-world experience. I've held multiple internships in the past few years, which has allowed me to apply my knowledge from the classroom. I've really enjoyed that.

The transition from Clinton Hall to Woolsey Hall has certainly enhanced my experience as a student. Woolsey is this brand-new, state-of-the-art facility, and it has made me that much more excited to go to my classes. It's just a great place to study and focus on my academics.
Do you have a favorite spot on WSU campus?
Probably the study rooms at Woolsey Hall. It's fun to get a group of friends together, reserve a room and lock ourselves in until we get everything done. If we need a break, we can grab a snack from the vending machine or coffee shop in the lobby. It's a major improvement, having everything in one building.
Have you received any scholarships while at WSU?
I am a recipient of the Capital Federal Savings Scholarship. Private support made it possible for me to work to gain experience in my field rather than constantly worrying about paying bills. It freed up time to apply my classroom experience and ensure that it was actually what I wanted to pursue as a career.

The Capital Federal Savings Scholarship has a GPA requirement; I hold myself to a pretty high standard, so that wasn't a concern for me. Once a year, the donors come to campus for a luncheon, which gives you the opportunity to meet and thank the people who are supporting you. That has been very meaningful to me.
What has been the most influential class you've taken at Wichita State?
I loved Financial Accounting I. It helped me realize that I liked accounting and wanted to pursue it as a career. It never felt like a chore; I was always eager to study for it.
What are you most excited for after graduation?
I'm going to be continuing my education at Wichita State to receive my Master of Accounting. I'm looking forward to that. In fact, I didn't even consider anywhere else for my master's degree. I love the business school here too much to leave.
Do you have any advice for incoming students?
It's cliché, but get involved on campus! When I started at WSU, I was very focused on my academics because I was just so focused on graduating. But being able to find extracurriculars that are engaging: That's how you build bonds on campus. It gives you a support system and ties you to Wichita State. That's special. It makes your college experience more than "just school," and that lasts a lifetime.