5.15.23
Shocker Rowing is making waves in Wichita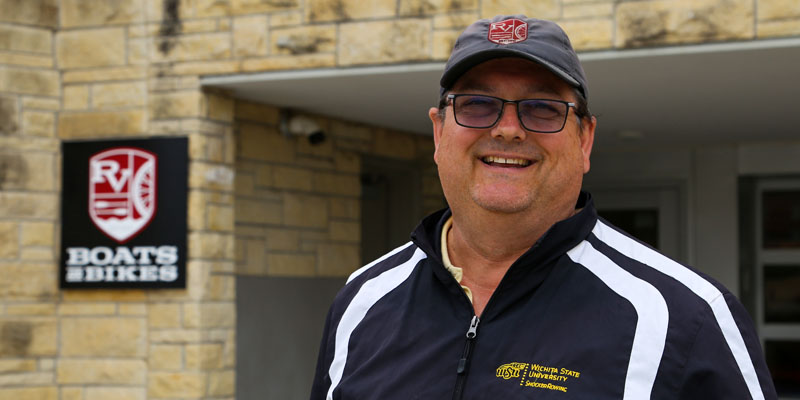 Just downstream from the Keeper of the Plains hides the Shocker Rowing boathouse, a 7,000 square foot facility decorated with sculls, coxswains and plaques from the program's nearly 50 years of competition. The brick-and-mortar, just a few steps away from the Arkansas River, is considerably different from the program's previous aquatic facility: a trailer, a portable toilet and two cargo containers.
"All of our equipment was just out in the elements. If there was a hailstorm, I'd hook up the trailer and find an overpass to put them under. During the winter and summer, we'd have to put the equipment in storage just to get it right back out," said Coach Calvin Cupp. "Obviously, those factors created a burden of time and resources just to operate on a daily basis."
The rowing team's new home is an upgrade, to say the least.
Cupp, who has been head coach for the team for 23 years, believes that Wichita State and its many branches have a responsibility to give back to the community, a responsibility he does not take lightly.
"We hit a huge milestone with this facility, and it was a long time coming," said Cupp. "In this space, we can focus our energy on doing more for the Wichita community."
Since his arrival in 1999, Cupp has been building the program's network beyond the walls of WSU, into the city. "As we increase our engagement, we're also finding people in the community who are doing good work," he explains. "If we can work together with these downtown groups and grassroots organizations, we can improve our environment, enrich our community and have a stronger collective voice."
Shocker Rowing moved to the River Vista complex in 2018, and has since partnered with the city of Wichita to put on events like Clean Streams, Lights on the River, the Big Float and the city's annual capstone, Riverfest, a partnership that Cupp calls a "no-brainer." This summer, student-athletes will be leading a community education course on aquatic activities like kayaking, paddleboarding and pedal-boating. And soon, they'll be coordinating with Club Parkinson's, a local organization dedicated to the health and wellness of individuals with Parkinson's Disease, offering outdoor activities along the Arkansas River. Needless to say, Shocker Rowing is staying busy.
This is Cupp's vision for the team. "I'm always thinking about five, 10, 15 years down the road," he says. "We recognize that over time, we must continue to evolve. What are we going to look like? What kind of growth will we see in our city, in our student-athletes?"
Enhancing the student experience
While focusing their attention on the city of Wichita, Shocker Rowing has remained equally dedicated to its students. The team operates with the same mission that guides Wichita State as a whole: giving students applied learning experiences while in school and building partnerships with the community. Boats and Bikes, the team's full-service retail venture just next-door to the aquatic center, lends a hand in both departments.
"Boats and Bikes is a legitimate small business, and we run it like that," said Cupp. "When our students come in, we ask them what they're hoping to gain from working with us. If they're interested in marketing or business or accounting, we want to be able to push them in that direction, so they're getting that real-world experience—not just a paycheck."
Boats and Bikes also partners with the city's Way to Work program to employ high school students. "That's not just good news for our local community, but it also helps people see who Wichita State is," said Cupp.
With a national tournament fast approaching and a full slate of activities between city partnerships, the team is gearing up for a busy summer season. But Cupp speaks for the team when he says they're nothing but excited for the coming months.
"We are still, at the core, Shocker Rowing," Cupp said. "But we are so much more than 'just rowing.' This is what we have always wanted to be."