8.31.22
Shocker Success Center will create a home away from home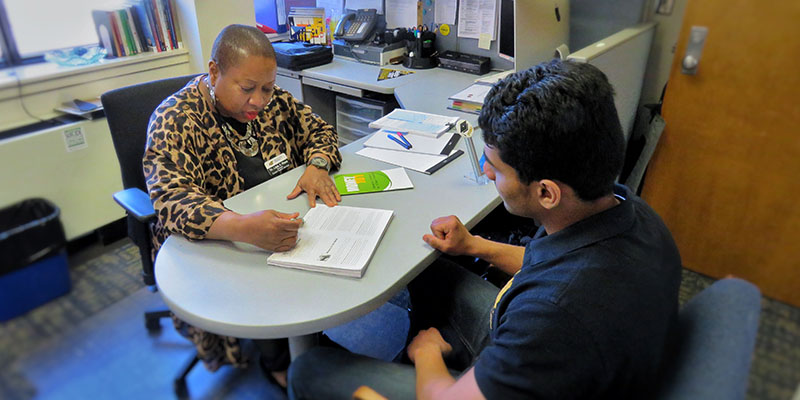 Wichita State University has thousands of faculty and staff members dedicated to creating a successful experience for every student who steps on campus. But often, they don't see the full impact that dedication has on the lives of students.

For Larry Burks, a reminder of that impact hangs on his wall.

The director of Military and Veteran Services, Burks and his team are used to students who come in with a question, leave with an answer, and that's the end of the interaction. But some students find the office to be a home away from home, and no matter how many times they come back or how long it takes, Burks is there to help them navigate toward success.

One such student found himself called into active duty in a combat zone in the middle of his education, but the team in Military and Veteran Services was with him the whole way. They provided the information he needed while overseas to ensure his studies could continue when he returned. To them, it was just doing their job. But to the student, that service had a lasting impact.

"When he came back, he was so appreciative of everything we did for him while he was there, he wanted to show us how much it made a difference in his life," said Burks. "That drove everything home to me about how important everything we do here is. It told us that we make an impression on the lives of the people we serve, and we have a real role and responsibility.

The service mentality is what makes WSU's student resource offices outstanding, which is why the Shocker Success Center is the university's highest capital priority. WSU staff are passionate about helping students succeed, and a large part of that requires them to connect students with other offices on campus.

"A lot of times, students come to campus without the tools to succeed in a program they know absolutely nothing about," said Marché Fleming-Randle, vice president and chief diversity officer at WSU. "They need people to help them know what they don't know – financial aid, tutoring, disability services, childcare resources – having someone who has been in that seat is very helpful, and you need it to be successful."

The Shocker Success Center will help create better access to these resources when the $17 million renovation of Clinton Hall is complete. It will bring together 17 student services in one building in the heart of campus, further enhancing student success and degree completion, which relates directly to Wichita State's vision to be a premier urban public research university.

One of the offices that will relocate is the Military and Veteran Services Office, and Burks says the move will make a huge difference on their ability to improve the student experience.

"It will provide a level of service that we have never had," he said. "A lot of times students ask for help, but sometimes they don't. Having the building in the middle of campus will make it much easier for students to say, 'can you help me?' And even if they don't, we're going to be here to offer it to them so they can be all they can be. We're going to do great things for students."

Sunderland Foundation invests in student success
Rooted in Kansas City, The Sunderland Foundation has a long history of supporting capital building projects that further their mission of improving the quality of life in the communities they serve.
Toward that end, they recently awarded a grant of $750,000 toward the Shocker Success Center, providing needed support for the project.
"The purpose of the Shocker Success Center aligns exactly with the mission and values of our Foundation," said Randy Vance, president and COO of The Sunderland Foundation. "We are committed to building just and equitable communities, and the increased access this center will provide for services and resources will help individuals overcome many of the challenges that disproportionately affect underrepresented students."
More than 50 individuals and organizations have contributed to the $17 million renovation of Clinton Hall to create the Shocker Success Center. Their generosity will enable the university to consolidate 17 different student services in one location at the heart of campus, reducing confusion and increasing convenience for student access.
Additional gifts are still needed to support the Shocker Success Center. To learn more about giving opportunities, contact Darin Kater at darin.kater@wichita.edu.