4.29.22
STEM workshop at WSU creates unique corporate partnership opportunity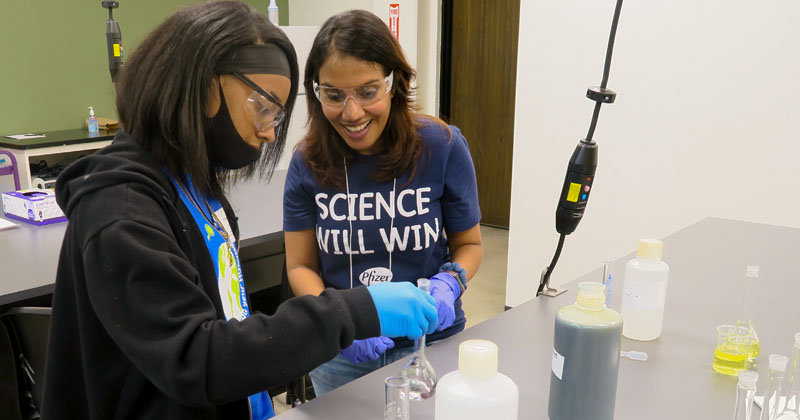 Saturdays at WSU are normally quiet, but once a year that silence is broken as Wichita State's campus floods with bubbling middle school girls from across Kansas.
They're attending the Expanding Your Horizons workshop, which came to WSU in 2013. Since then, it has introduced countless girls to the many possibilities of STEM application, advancing the university's vision to serve our surrounding communities and open doors to higher education.
"I love seeing these girls get excited about STEM and learn about careers they never would have imagined," said Moriah Beck, who helped bring the program to WSU in 2013. "They may see traditional STEM roles on TV or learn about them in school, but this workshop helps show them just how many opportunities are out there."
That exposure is one of the things that piqued the interest of UnitedHealthcare (UHC), a corporate sponsor for the event along with Boeing.
"As a diverse organization, we want to give young, underrepresented girls the opportunity to experience hands-on career workshops to become future leaders," said Melissa Medina, a representative for UnitedHealthcare.
UHC's support goes toward scholarship opportunities and transportation costs for students who may not otherwise be able to attend, exposing even more students to the opportunities available at Wichita State. Many of the students who attend would be first-generation college students and the workshop includes a session for parents to learn more about preparing their student for college.
"Our audience may be middle school girls, but it's never too early to recruit future Shockers," said Beck. "You can see the girls love picturing themselves here someday – they get to see the campus and eat lunch in Shocker Hall – it's a really unique experience."
The event is run by volunteers and community partners, including the Society of Women Engineers, WSU American Chemical Society, WSU Biology Labs and WSU Environmental Finance Center.
Events like this create unique connection points for the university's corporate partners. Interested in learning more about how to maximize your partnership with WSU? The Corporate and Foundation Relations team at the WSU Foundation can help. Reach out to Angela Dudley at angela.dudley@wichita.edu for additional information.