10.2.20
Student-Athlete Center and Charles Koch Arena Renovations ribbon cutting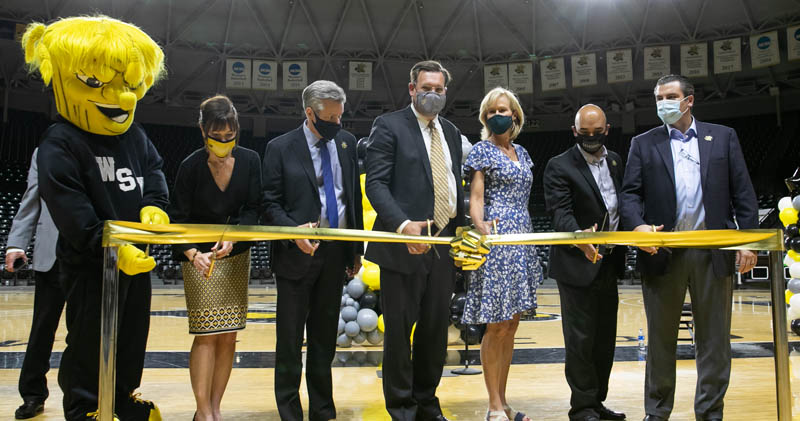 On September 30, donors and university leaders gathered in Charles Koch Arena to celebrate the Student-Athlete Center's opening and the completion of the Charles Koch Arena Renovation with a ribbon cutting ceremony. The new facilities are the result of a $13.8 million investment made through private support as part of WSU Foundation's Shock the World campaign. The new building and renovations represent a significant advancement for Wichita State University.
The largest component of the project is the Student-Athlete Center. The two-level, 36,000-square-foot building, located just south of Charles Koch Arena, features a 3,000-square-foot study hall, tutoring rooms and a computer center. Wichita State's track and cross country programs also have a dedicated space in the facility, including men's and women's locker rooms, a team room, an athletic training facility and a strength and conditioning center. The other part of the project included the renovation of administrative offices to create more space for the men's basketball, women's basketball and volleyball programs.
"The Student-Athlete Center will impact the academic experience of every one of our student-athletes during their career at Wichita State," Athletic Director Darron Boatright said. "By providing larger study spaces, more private study areas, and individualized tutor rooms, this shows a commitment that our donors and our institution have toward the academic success of all student-athletes."
In addition to the ribbon cutting ceremony, donors toured the facilities and visited with Wichita State Athletics representatives about the new opportunities the additions represent. Beyond serving as a powerful recruiting tool, the Student-Athlete Center will prepare student-athletes for success in the classroom and on the court or field. Naming opportunities are still available. A complete overview of the project can be seen at www.goshockers.com, or a brochure can be requested by contacting the Wichita State Athletics Development Office at (316) 978-7276.