9.14.19
Textron Aviation's gift helps WSU serve underrepresented students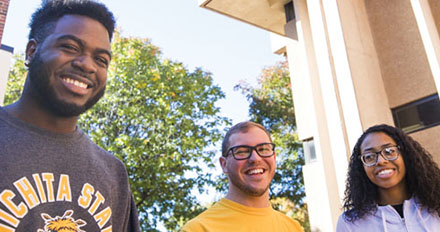 As part of its efforts to promote diversity and inclusion in the workplace, Textron Aviation has committed $300,000 to support programming by WSU's Division of Diversity and Community Engagement over a three-year period.
Textron Aviation will be the exclusive sponsor of four programs: Tenacious Ten, No Veteran Left Behind, Community Engagement Ambassadors, and Applied Learning and Partnership Development. Through a variety of services and avenues, these programs strive to help underrepresented students be successful.
"It's essential to the future of our business that we foster a thriving, diverse community where everyone has the opportunity to be successful," said Maggie Topping, Textron Aviation senior vice president of Human Resources and Communications. "We're excited to continue to grow our relationship with WSU to support students from all backgrounds and walks of life."
Textron Aviation's gift is another step in its collaboration with Wichita State to develop the company's next generation of employees. Textron Aviation recently signed a long-term lease at WSU's Innovation Campus to over additional student internship opportunities and other applied learning experiences.
The new funds will allow Wichita State to grow and sustain the four programs, said Marche Fleming-Randle, WSU vice president for diversity and community engagement.
"The Division of Diversity and Community Engagement is excited to partner with Textron Aviation," said Fleming-Randle. "This gift will provide resources and services for our target constituency groups who are historically underrepresented."
Tenacious Ten is a program that helps underrepresented high school students prepare to go to college and eventually start careers that will be financially lucrative. "They're going to be able to elevate themselves to make it possible for future generations of their family to be successful, too," Fleming-Randle says.
The Ambassador's Program works to connect underrepresented WSU students with community service programs and career opportunities that will develop their interest in civic engagement. No Veteran Left Behind provides emergency support for student veterans and their families who face financial hardships. It also helps support WSU's Military and Veteran Student Center.
The Applied Learning and Partnership Development program identifies applied learning opportunities in the community for underrepresented students, to help them develop skills that will enhance their career success.
"We wouldn't be able to grow these programs and come closer to achieving our goals without the help of Textron Aviation," Fleming-Randle said. "Diversity belongs to all of us. We appreciate Textron Aviation for joining us as shepherds of this mission."