4.28.23
Vice President of Alumni Engagement welcomes Shocker Graduates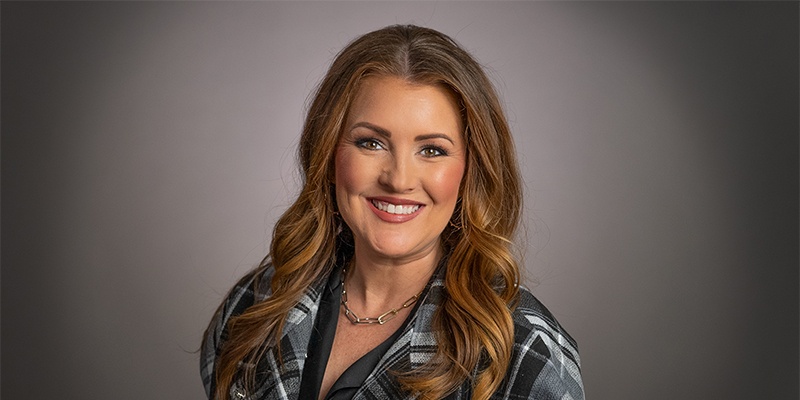 Shocker profiles highlight the students, alumni, supporters, faculty and staff who make Shocker Nation all that it can be. These short Q&As allow you to hear from these remarkable individuals in their own words.
Stacie Williamson
---
Tell us a little bit about your current position.
I have the privilege of leading WSU's alumni engagement efforts as the VP for Alumni Engagement. In this role I get to connect 107,000+ alumni around the globe with their alma mater and with one another. Additionally, I oversee our Prospect Development and Shocker Fund teams.
Who was a peer or mentor who inspired you during your time at Wichita State?
I had several, but I would say I grew closest with Dr. Cindy Claycomb. We shared a love for all things marketing, consumer behavior and WSU baseball. Cindy had a way of connecting with her students and bringing real life examples into her teachings—this before applied studies came into focus. We remain connected to this day. Post degree, I have been able to get to know Cindy personally. Her heart for service was evident while at WSU and through her service to the Wichita community. I admire her grace, poise in difficult situations, and genuine care and concern for others.
How did your time at Wichita State influence your career path and help position you for success in your current role?
It comes down to one word, CONNECTION. I cheered 2001-2002 and absolutely loved it–I made the best memories and gained lifelong friends. I was also very active in Delta Gamma Sorority! I helped with Hippodrome, Shocktoberfest, and served as the director of Anchor Splash. You can see a theme evolving here. The more involved you become and give of yourself, the more you stand to gain. Additionally, I worked full time for Fidelity Bank through most of college. I learned so much about the corporate world, time management, customer service and how to advocate for yourself. It was there I took a risk and emailed Mr. Clark Bastian asking for an internship in the marketing department. Shortly after, while showing my dedication to the company, my request came to fruition. When I think of the work I am committed to today, it is all about being a connector, providing stellar service and planning ALL the fun things!
Why do you feel it is valuable for an individual to stay connected to their university after graduation?
If you allow it to, the University will continue to connect you with all the people, tools and resources you could possibly need. And better yet, it will become a place you get to share with your loved ones.
How has your connection to WSU benefited you, personally?
It ultimately earned me my dream job, serving our Shocker alumni and friends for a living.
How does the WSU Foundation and Alumni Engagement both sustain and grow an alum's network after graduation?
We provide ample communication and opportunities to connect with one another, whether it be through The Shocker Magazine, Shocker Connect e-mails, events and campus gatherings. We will continue to grow our efforts in time to ensure we reach Shockers everywhere. And there are always opportunities to get involved whether it be through committee service, volunteerism, mentorship, attending fine arts performances, athletics events, gallery openings and the list could go on. These are all ways and means to grow and sustain your network. The fun doesn't have to end after graduation!
What is your favorite memory from your time at WSU?
This is a tough one! My favorite memory at WSU has to be cheering in Charles Koch Arena—the energy and the best fans around!
What advice would you give to the 2023 graduating class?
Leave everything better than you found it: people, places and things. Even just a little bit goes a long way.
What is your favorite part about being a Shocker alumna? What is your favorite part about your role now?
I am immensely proud of our university and our leadership. The WSU campus and the education you will receive today are better than ever because of the people who continue to pour into our mission. To be part of such rich history and tradition will never be lost on me. Being new to my role, I am most excited for what is to come. In time, we will grow the programming and events you continue to ask for, we will be a united Shocker nation.
What are you currently reading, watching or listening to?
My guilty pleasure is reading anything by Colleen Hoover. My go to playlists on Amazon are Country Heat, Early 2000's hip hop or Morning Acoustics and on Spotify, Jolene (all things Dolly) and throwback Jams. My parents raised me on good country and all the old funk bands/classic R&B. I love the late 90s, early 2000s grunge/alternative hits too. Basically, I LOVE MUSIC. I enjoy watching reality TV shows, most of which pain my husband to see on and I listen to KMUW for news.