7.29.22
Wichita State University Foundation welcomes new board members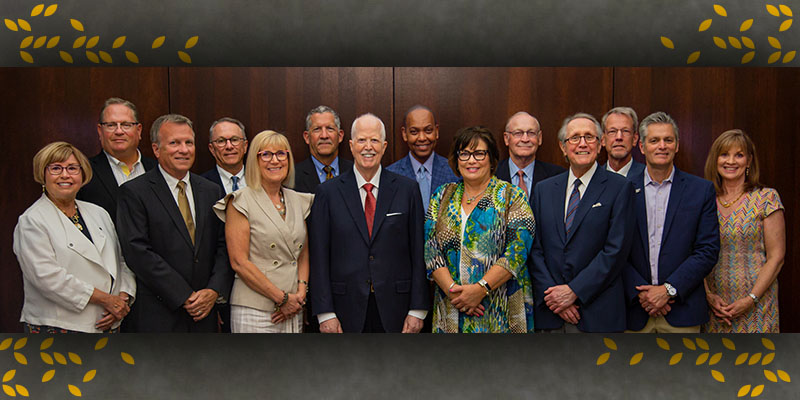 New members of the WSU Foundation Board of Directors are Don Barry, '88, managing director at Robert W. Baird & Co.; Mark Finucane, '76, managing director at Alvarez & Marsal; John Rolfe, '85 president and CEO of Wichita Regional Chamber of Commerce; and Maggie Topping, '00, senior vice president at Textron Aviation.
Their term began July 1, 2022, and will continue for three years. Board members are eligible to serve two terms and are also a part of the WSU Foundation National Advisory Council (NAC), where they participate in one of the 10 standing committees.
"Our Board of Directors is a truly exceptional group of individuals, who give a significant amount of their time to help continue our mission of serving the university and in turn, the entire Wichita community," said Elizabeth King, president and CEO of the WSU Foundation. "These four new members are wonderful additions, and I'm excited to learn from their wealth of experiences."
The board is chaired by Lynn Nichols, chairman and CEO of Yingling Aircraft Inc.
Returning board members include Pamela Ammar, '80; Susayn Brandes, '81; Wayne Chambers, '72, '79; Jeff DeGraffenreid, '88; Junetta Everett, '79; Kelly Harrison, '81, '85, '94; Shadi Marcos, '96; Jane McHugh, '80; Shawn Penner, '92; Marilyn Pauly, '72; Dan Peare, '82, '85; Jay Smith, '79; Sheryl Wohlford '82; and Elizabeth King. Rick Muma, WSU president, is an ex-officio member.
Denis Dieker, '77, '78; Debbie Haynes, '76; Mike James, '71; and Barry Schwan exited the board in June at the completion of their terms.