5.1.20
With a degree from WSU, Aadhar Jain is helping to build the future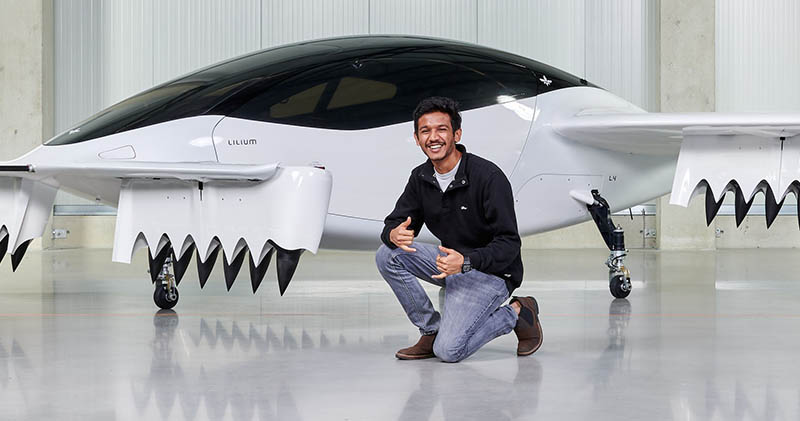 Aadhar Jain is one of those WSU graduates who believes the scholarships he received helped make it possible for him to earn his degree and get a dream job.
Jain, 24, came to Wichita State from Jaipur, India, and completed a bachelor's degree in aerospace engineering. Today, he is a manufacturing engineer for Lilium, putting his skills to work on the Munich-based company's project to build electric vertical takeoff and landing jets. Lilium has received industry attention for its plans to develop an on-demand air taxi service powered by these jets.
During Jain's two years at Wichita State, he worked and also received three scholarships to support his educational journey. The scholarships, he says, helped make college more affordable. But their value was more than just monetary:
"The scholarships helped me and my family in a time of need and also showed me the importance of philanthropy. Growing up in a society where the possibility of abundance is mostly a myth, some philanthropists at Wichita State gave me a peek into the cycle of giving and the impact it can bring. They helped me get through my final semesters and exposed me to a set of values much larger than the donations they made."
Jain says he chose to attend Wichita State because of its strong reputation for aerospace engineering and applied learning opportunities.
"Wichita State's engineering program, faculty and facility equipped me with the fundamentals and exposed me to a career pathway that was a combination of technical expertise, problem-solving techniques and a results-oriented way of working," Jain says.
He has big hopes and dreams for the future.
"My career aspiration is to be part of a project that changes the course of the way we live our lives," he says. "To bring about change that doesn't care about where you're from and what you can afford to pay. A change for all."
If you would like to learn more about supporting WSU students, contact Darin Kater, WSU Foundation vice president, at 316.978.3887 or darin.kater@wichita.edu.