9.14.19
With a generous estate gift, Marty and Donna Perline add new meaning to the words Shockers forever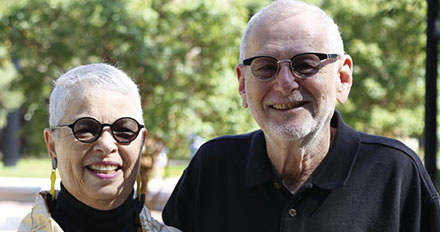 When Marty and Donna Perline first came to Wichita from Ohio, practically newlyweds, they looked at his job as a WSU economics professor as a temporary stop on their way to setting down roots somewhere on the West Coast.
"Two years, is what I promised her," Marty recalls, a sheepish grin directed at his wife.
That was 54 years ago, 1965, the year Wichita University entered the state higher education system and became Wichita State University. Today, they are still Wichita residents, Marty is still a full-time economics professor and Wichita State is a cherished and inseparable part of their lives. So much so that they are recognized wherever they go on campus — basketball games, fine arts performances, the Heskett Center, and more.
And, so much so, that they have decided to leave the bulk of their estate to Wichita State, a generous gift that will endow scholarships in economics, fine arts and a general category helping students in multiple fields of study. "We see so many students who struggle financially, and tuition is getting more and more expensive," Marty says.
"Many of these students could get better grades, could graduate sooner, if they just had some help with their expenses."
"They're trying to work, they're trying to raise families, and it's just too much," Donna adds. "Giving a scholarship to even one person will make a difference in their lives. We want to make that impact for as many students as we can."
Looking back at their relationship with Wichita State, the Perlines naturally can cite highs and lows, but overall they agree with Marty's description of it as "copacetic."
"There have been ups and downs, frustrations as well as rewards," Donna says. "On the whole, however, I would say the university has treated us like family. We're connected."
Marty continues to enjoy teaching and research, as well as visiting with his colleagues. It's not too uncommon for him to run into people who mention that he taught one of their parents years ago. "When someone tells me that I taught their grandparents, that's when I'll know it's time to retire," he says with a laugh.
Besides being a popular professor, Marty is also well known for serving 38 years as the faculty representative for athletics in the Missouri Valley Conference. A major part of the job was to certify the eligibility of Shocker student-athletes. He retired from the post in 2013, and was inducted the following year into the MVC Hall of Fame.
The Perlines enjoy WSU athletics, but to them, Wichita State has a lot more to offer, including excellent fine arts productions, a top-notch art museum in the Ulrich, a world-class outdoor sculpture collection and a long tradition of graduating first-generation students.
"These are students whose background financially is limited, and we're helping them get degrees," Marty says. "We're proud of that, because that's how people get ahead in life. Through education."
Their estate gift to Wichita State embodies that belief in the power of education. After more than five decades at WSU, Marty and Donna Perline are leaving a legacy that will endure even longer.