5.19.22
Woolseys give additional $1.3 million to fulfill vision for Wayne and Kay Woolsey Hall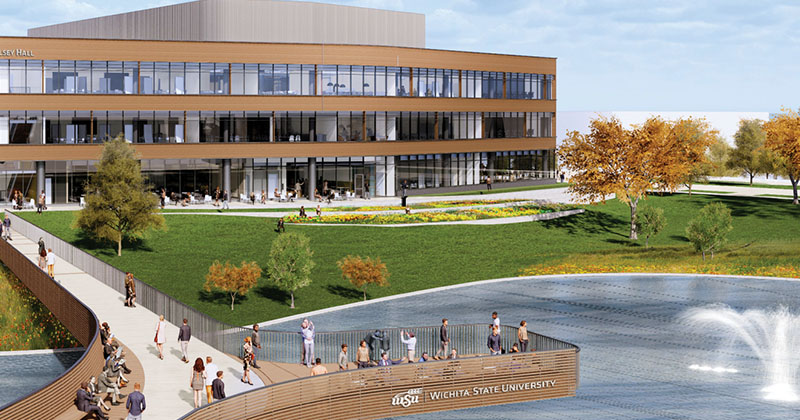 It's been four years since WSU broke ground on Wayne and Kay Woolsey Hall, the future home of the Barton School of Business. This summer, faculty and staff of the business school will move into the building and begin preparing for the 2022 fall semester in their brand-new home.
"This has been in progress a long time, and I'm so happy my dad is still alive to see it," said Marc Woolsey, Wayne and Kay's son.
The Woolseys are committed to helping create a world-class facility for the business school, and this additional gift of $1.3 million from their trust will ensure the building reaches its full potential to attract talented students and faculty to WSU for years to come.
A portion of the gift will be used to create the Kay Woolsey Garden south of Woolsey Hall as a memorial for Kay, who passed away in 2019. The garden will be directly in the line of sight from the Promise Bridge while providing an eye-catching expanse of color outside the windows of the building.
"Kay was totally involved with the business, and she worked endless hours," said Scott Fraizer, president of Woolsey Companies. "But one of the things she made sure of was that there were fresh flowers every month in the entrance – she just loved flowers. I think this is a wonderful tribute to both what she loved and all she did for the company."
The other part of the gift will go toward the endowed Woolsey Hall Technology Fund, which will provide an annual payout to update technology throughout the building. "This will help ensure WSU stays ahead of the curve on what students need to learn," said Woolsey. "There is so much more now that goes into degrees – like understanding security and using personal equipment and working from home. The technology fund will help students stay on top of that."