9.11.23
WSU alumna on far-ranging book-signing trail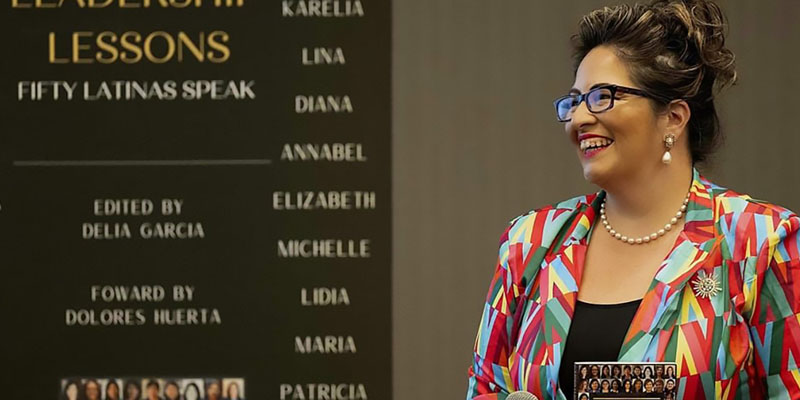 This summer, Delia Garcia '02, a regional administrator for the U.S. Department of Labor Women's Bureau, has logged an impressive number of travel miles to book-signing events for her Latina Leadership Lessons. With her authorship pen in hand, she has visited New York City, New Orleans, and San Juan, Puerto Rico — plus a number of other cities, including her hometown of Wichita.
For her book, Garcia, who in 2004 became the first Latina and youngest woman elected to the Kansas legislature, gathered Top 10 tips for being a successful leader from 50 prominent Latinas. Among those offering insights and advice are a number of Shockers, including Wichita State graduates Carmen Rosales '76, Yolanda Camarena '80 and Annabel Mancillas '06/06. Garcia says she chose to feature high-achieving women whom she has "worked with, looked up to, learned from — and who've been mentees of my own. So, there are 25 states represented, 50 women, three generations."
The women in the book come from a wide array of professional backgrounds and have excelled as government officials, corporate and nonprofit executives, attorneys, scientists and doctors, authors, entrepreneurs, activists, educators and military leaders. In Wichita, Watermark Books & Café hosted a signing event with Garcia and two of the book's contributors: Camarena and Rosales.
Rosales is Garcia's mother and longtime owner of Connie's Mexico Café. "Growing up, seeing my mother and my grandmother run a business — Kansas' oldest family-owned Mexican restaurant, Connie's — they were my first leadership models, along with other people in my family, particularly my sisters, my aunts and my uncles," Garcia says.
Garcia's book-signing last month in San Juan was part of the national convention for the Labor Council for Latin American Advancement (LCLAA), an advocacy organization representing the interests of some 2 million Latinex workers and union members in Puerto Rico and the United States. Her experience with labor issues includes serving as Kansas Secretary of Labor (2019-2020), the first Latina to be appointed to the position.
Latina Leadership Lessons, Garcia says, "is not just for Latino women. When people read it, there is a common thread for everyone."