7.28.21
WSU Foundation surpasses fundraising goals for most recent fiscal year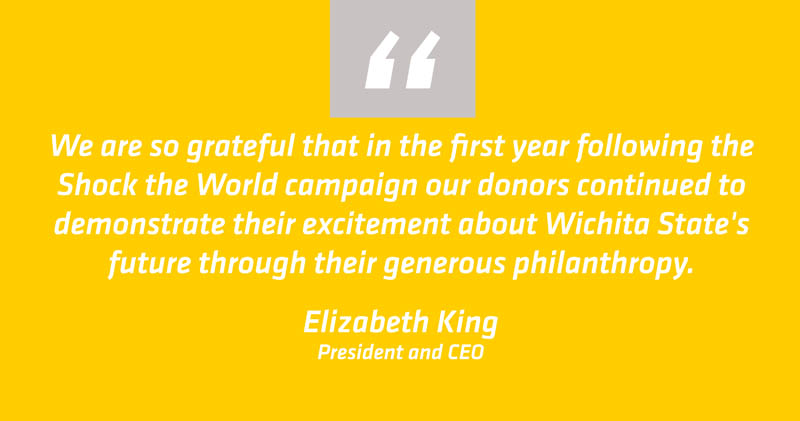 Supporters of Wichita State University contributed $42.2 million in the fiscal year that ended June 30, exceeding the WSU Foundation's goal of raising $35 million in private funds to advance the university. The donations include cash, gifts-in-kind, pledges, received estates and new planned gift commitments.
The fiscal 2021 total reflects private giving in the first year following the Foundation's Shock the World Campaign, which raised $307.8 million in a seven-year period that ended on June 30, 2020.
"We are so grateful that in the first year following the ambitious Shock the World campaign our donors continued to demonstrate their excitement about Wichita State's future through their generous philanthropy," said Elizabeth King, WSU Foundation president and CEO.
The WSU Foundation's top fundraising priority for fiscal 2021 was securing support for new need-based scholarships for students with financial limitations. More than $12.6 million was donated and pledged for that purpose, King said.
"Our donors recognize that the cost of tuition and fees can be very challenging for many students to meet on their own," she said. "And they also understand the long-term benefits of a well-educated workforce to our community and nation. The need for talented graduates is a pressing one."
The WSU Foundation also established a goal for fiscal 2021 of securing at least 40 new planned gifts. That number was surpassed, with 41 new planned gifts pledged.
"Through their estate gifts and other methods of financial planning, our alumni and friends are showing just how much they care about Wichita State's future," said Mike Lamb, WSU Foundation vice president. "These gifts are typically very personal and very deeply felt."