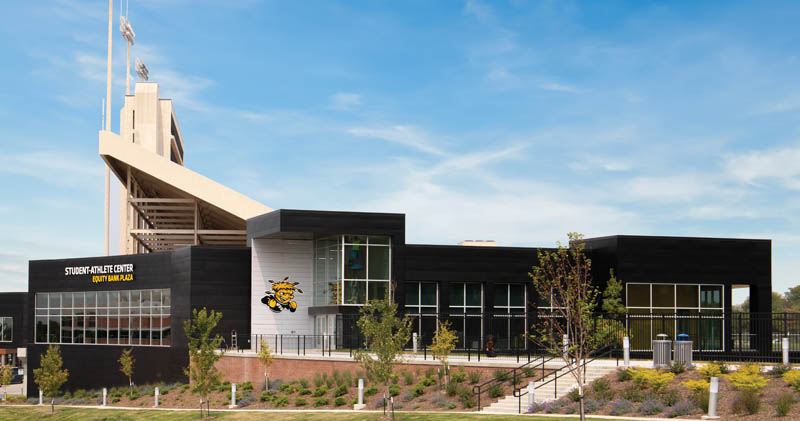 Donors to the Shock the World Campaign invested more than $47.1 million in three major facilities projects for Wichita State.
STUDENT-ATHLETE CENTER/CHARLES KOCH ARENA RENOVATION: $13.9 MILLION
"The arena renovations modernized our basketball and volleyball offices to make room for the staff sizes that are now allowable. The new look and amenities better reflect the stature of our programs and will allow us to conduct business, court recruits and meet the public in a more professional and sophisticated setting.
The Student-Athlete Center will impact the academic experience of every one of our student-athletes during their career at Wichita State. By providing larger study spaces, more private study areas, and individualized tutor rooms, this shows a commitment that our donors and our institution have toward the academic success of all student-athletes."
– WSU Athletic Director Darron Boatright
Track and Field and Cross Country programs moved into the new facility.
"With regard to recruiting athletes, it's going to be a huge draw. Our new team room is double the size of our old one. That's an unbelievable improvement. Previously, our locker rooms were located under the Cessna
Stadium bleachers and the conditions were blighted and outdated. Our new offices overlook the Cessna track, so we'll be meeting with recruits and parents with that impressive view. The new weight room is absolutely spectacular, with state-of-the-art equipment. I really feel like all of this gives our athletes a sense of having an important place in the athletic department."
– Track and Field Head Coach Steve Rainbolt
ECK STADIUM IMPROVEMENTS: $2.7 MILLION
"Our new performance facility represents our winning tradition in every way. In our halls, we celebrate our All-Americans and former Shockers who have made it to the MLB. Each of our players wants to have their name added to these walls. That's motivation. The locker room is on par with professional programs. When our players walk out of the locker room onto the field, the feeling is pro. It is a mindset that sets our program apart.
These facilities are key in our recruiting process. They demonstrate the investment the university has in our future. This is a game changer! It is also a testament to the great support we have from our fans. We are thankful to the many generous donors who support Wichita State baseball."
– Baseball Head Coach Eric Wedge
WAYNE AND KAY WOOLSEY HALL, NEW HOME FOR THE W. FRANK BARTON SCHOOL OF BUSINESS: $30.5 MILLION
"Woolsey Hall will allow us to compete effectively for the brightest students, faculty and staff. It will provide a learning environment that reflects the needs of industry and business today and be a critical link to the Innovation Campus for business and students. Ultimately, this facility will deliver on Wichita State's vision to create a learning environment where academics, industry and research converge. It will contribute to preparing the next generation of leaders with a global, innovative and entrepreneurial mindset."
– Barton School Dean Larisa Genin