1.27.23
Commencement: From eight graduates to 3,700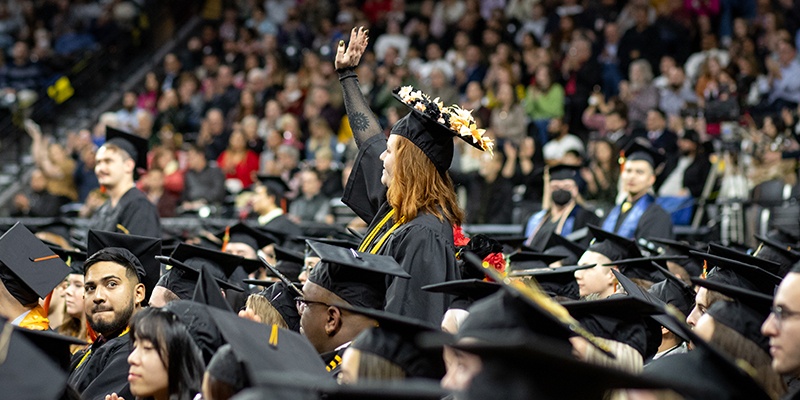 It was a Wednesday morning in June 1899 when eight graduating seniors gathered atop Fairmount Hill for Fairmount College's first commencement ceremony.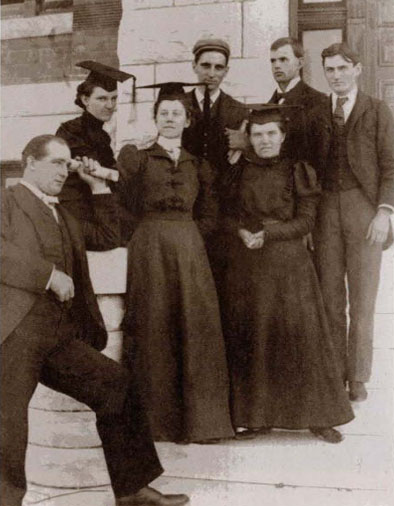 Since then, our university has not only changed names twice, but has grown to graduate thousands of students a year, with more than 3,700 in 2022. Through the years, the rich tradition of commencement has continued to honor Wichita State's original guiding virtues: responsibility, enlightenment and strong character.
Those values are recognized each year during graduation ceremonies with a trio of university emblems. The presidential medallion, for example, was worn most recently by WSU President Rick Muma. Crafted from black silk and bearing the university's seal, this piece signifies the president's dedication to student success, the overarching duty within their role.
The university mace, designed by artist Jonathan Graham Bonner in 1978, initially appears intimidating, what with the 22 steel spikes at its head. In reality, carrying the mace is an honor, as it reflects the mission and power of education. Select WSU faculty members pass the mace during the academic procession, reminding graduates to conduct themselves meaningfully, respectfully and thoughtfully.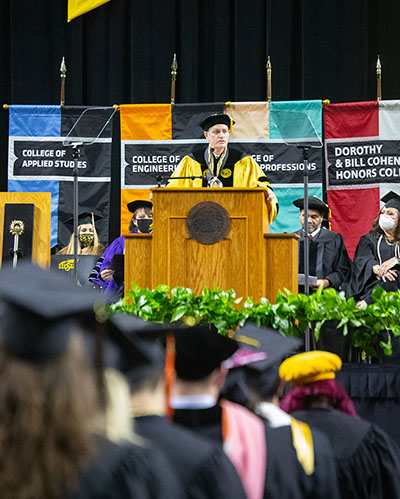 Numerous commencement programs illustrate the third emblem, the university seal, on which a farmer and a Native American look skyward to seven stars and a lamp of learning. The seal symbolizes the university's commitment to a student body united under the common goal of education.
From the little college on the hill with only one degree — a bachelor's degree in general studies — to today's sprawling public research university that offers undergraduate and graduate degrees in more than 200 fields of study, Wichita State remains devoted to upholding its original values. Certainly, much has changed since 1899. But our university's focus on responsibility, enlightenment and strong character is as prevalent today as it was when our inaugural eight graduates came together to celebrate that first commencement.