5.6.22
Fairmount Society dinner honors WSU's distinguished supporters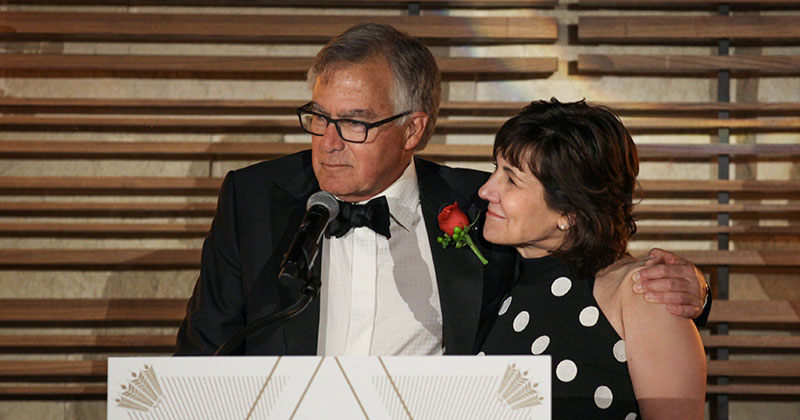 Each year, the WSU Foundation hosts a dinner to honor the most distinguished supporters of WSU. These individuals have made significant contributions to improve infrastructure, support scholarships and open opportunities to success for students and faculty at the university.
The dinner is also an opportunity to recognize the recipients of the Fairmount Founders' Award, established in 1988 for outstanding service and exceptional generosity. Pamela Clancy Ammar and Dr. Alex Ammar are the 2022 esteemed recipients of the award. An alumnae of WSU, Pamela serves on the WSU Foundation Board and National Advisory Council, and previously served on the Alumni Association and SASO Board of Directors. Pamela and Alex are highly involved members of the Wichita community as well, serving on numerous boards for local nonprofits.
"We are so honored by the ongoing generosity Pam and Alex have shown to the university," said Elizabeth King, president & CEO of the WSU Foundation. "They truly go above and beyond in supporting Wichita State's mission, and we are deeply grateful for their commitment."
This year, six members were also recognized at the Fairmount Society dinner for their outstanding generosity.
Barry and Cindy Schwan were inducted as Lifetime Achievement Members, for those whose donations to WSU exceed $1 million.
Marilyn and Bill Boettger joined the Society as Lifetime Distinction Members, with more than $500,000 in total gifts to the university.
The Society also expressed appreciation for Jay C. Ewy, Marilyn and Ken Pauly, and Karen and Kenton Richards as Life Members, recognizing their total gifts exceeding $250,000.