5.6.22
Pamela and Alex Ammar honored with Fairmount Founders' Award for their support of Wichita State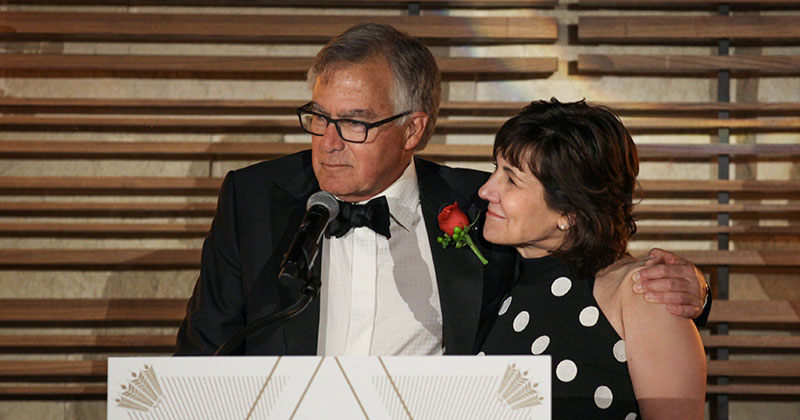 ---
Pamela Clancy Ammar and Alex Ammar were named recipients of the 2022 Fairmount Founders' Award at the annual Fairmount Society dinner held on May 5 at Mark Arts. The WSU Foundation gives the award out annually to recognize those who provide outstanding service and generosity to Wichita State University.
"I have a soft place in my heart for Wichita State," said Pam. "It's near and dear to me and I want to see it thrive and continue to flourish."
The Ammars have made significant gifts to support the athletic programs and scholarships at Wichita State, including to the campaign to renovate and expand Charles Koch Arena. But their commitment to WSU goes well beyond financial support. Pamela serves as the Chair of the Dean's Advisory Board for the College of Health Professions and as an Executive Board Member of the WSU-KU joint Legal Education Accelerated Degree program committee, along with roles on the WSU Foundation Board and the Foundation's National Advisory Council.
"Pamela and Alex unconditionally share their time, talent and resources to help our students and the greater WSU community succeed," said Elizabeth King, WSU Foundation president and CEO. "Their dedication to Wichita State's growth is instrumental to helping attract top faculty, students and athletes to WSU."
Pamela was a highly involved student at WSU, graduating in 1980 and then embarking on a remarkable career as an attorney. Alex moved to Wichita in 1976 to begin his surgery residency program. After completing his vascular surgery fellowship in 1982, he joined Wichita Surgical Specialists, where he now serves as president and CEO. He is also a professor and chairman of the Department of Surgery at KU School of Medicine – Wichita, and regularly provides his insight and expertise to the College of Health Professions Advisory Board.
"I feel pretty strongly about supporting higher education in the city that you live in," said Alex. "If you support Wichita State, you support Wichita."
Pamela and Alex are lifetime members of the WSU Alumni Association and the Society of 1895 at the WSU Foundation.