12.9.20
A little out of the ordinary
Campaign gifts help enliven our campus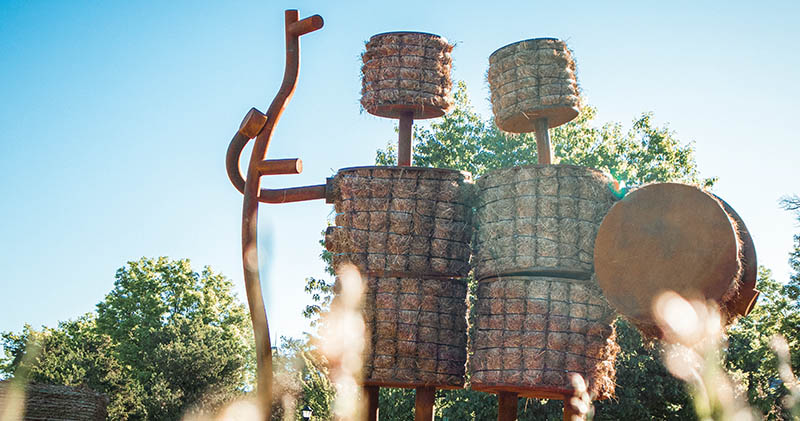 A WHIMSICAL SCULPTURE
Visitors strolling through the west end of campus might do a double-take when they come upon "Shockers," two 19-foot-tall figures made of steel and hay. The piece by renowned artist Tom Otterness celebrates the history of Wheatshockers, the nickname given to students who earned money for college by harvesting wheat during WSU's early years.
The children of the late Joan Beren— Adam Beren and sisters Amy Bressman and Julie Platt— worked with the Edwin A. Ulrich Museum of Art to commission the sculpture. It stands near Duerksen Fine Arts Center.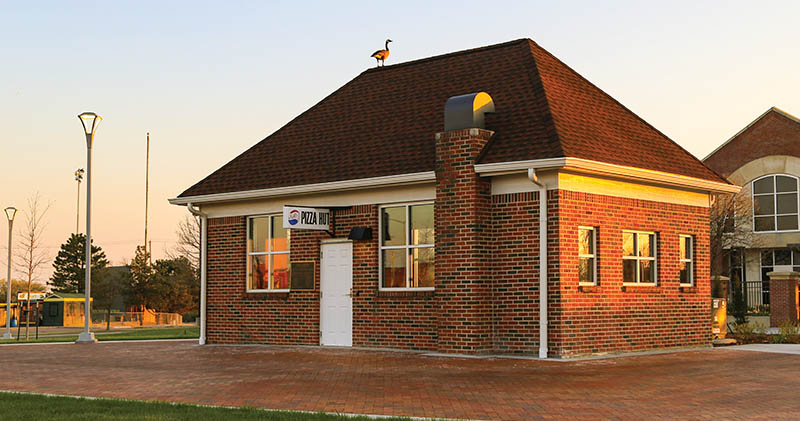 HONORING THE PIZZA HUT LEGEND
The Pizza Hut Museum on the Innovation Campus is proof that good things really do come in small packages. About 500 square feet in size, the museum tells the inspiring story of the founding of Pizza Hut in Wichita by WSU alumni Frank and Dan Carney.
Among the Pizza Hut franchisees donating to the project were Bill Walsh and Daland Corp. and Larry and Dana Fugate of Fugate Enterprises. Dan and Gayla Carney contributed most of their collection of memorabilia. The museum is packed with displays, interactive features and artifacts. Since the museum opened last year, hundreds of visitors, including prospective students and their families, have toured this showcase of our university's entrepreneurial spirit.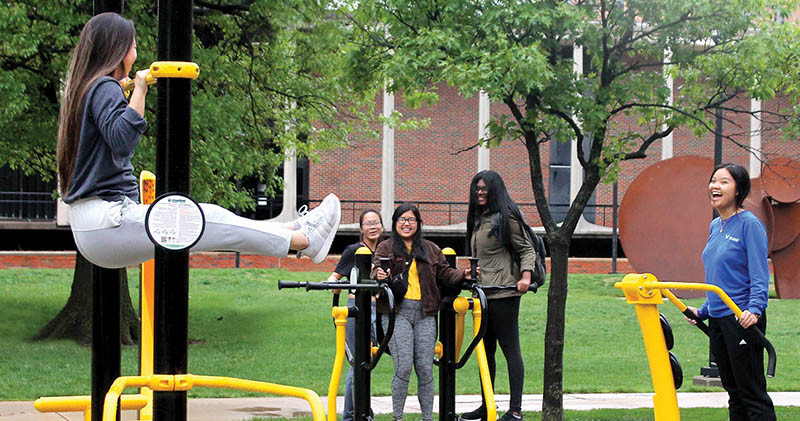 PARCOURSE, OF COURSE
A parcourse is just an outdoor gym area, but the one installed outside the Heskett Center has special meaning for Sam and Jacque Kouri. The couple first installed a parcourse on the site more than 30 years ago. It had deteriorated so much through the years that they made another gift to replace it with a new and modern version. The colorful gym has eight exercise stations and can be used by both able-bodied and disabled individuals.
The Kouris dedicated the parcourse to their son, Sammy Jr., who despite his own disabilities, attended college and was a manager for both the WSU basketball and football teams. It is used daily by students and community members.