12.8.20
Frank Carney's entrepreneurial legacy sprang in part from his time at Wichita State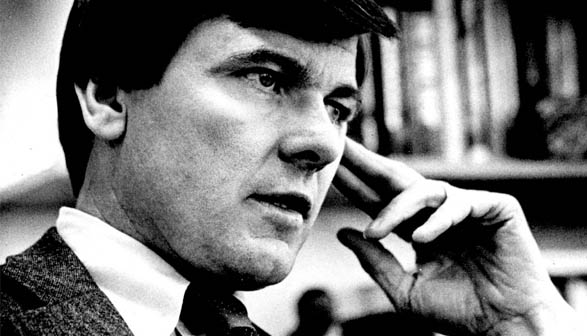 In the years between 1961, when Frank Carney left his student days at Wichita University behind him, and 1999, when he returned to complete his degree, Carney firmly established his legacy as an entrepreneurial giant for co-founding the Pizza Hut empire with his brother, Dan.
The only reason he returned to school, he said in a newspaper interview at the time, was to fulfill a promise he and his siblings made to their father to get a college degree. He was the only one of his siblings without one. He graduated from Wichita State University in 2000 with a bachelor's degree in general studies.
A man whose life and legacy were intertwined with Wichita State for many decades, Mr. Carney died on Dec. 2 after living with Alzheimer's disease for more than a decade. He was 82.
"Frank will be remembered as a visionary, someone who loved the challenges and rewards of new business ventures," said Elizabeth King, president and CEO of the WSU Foundation. "He was an inspiration to many who sought to emulate his success. He will be greatly missed."
Mr. Carney was 19 and his brother, Dan, was 26 when they borrowed $600 from their mother in 1958 to start a pizza business in a small building near their family's Carney's Market. Through innovative franchising and aggressive marketing, Pizza Hut grew into the largest chain of pizza restaurants in the world. The Carneys sold their company in 1977 to PepsiCo for $300 million.
In the years that followed, Frank Carney joined a number of ventures in restaurants, real estate, oil and gas, automotive, rental and recreational businesses.
The 500-square-foot building in which the Carneys opened their first Pizza Hut is now the Pizza Hut Museum on WSU's Innovation Campus, a symbol of the entrepreneurial drive the Carneys came to represent. Both men were students in some of the first entrepreneurial classes taught at Wichita State by Fran Jabara, a legendary professor and dean of WSU's business school for several years. They often credited Jabara with helping to ignite their entrepreneurial drive. Frank Carney supported Wichita State in diverse ways, including chairing the WSU Foundation Board of Directors, participating in the National Advisory Council and contributing to a variety of areas on campus.